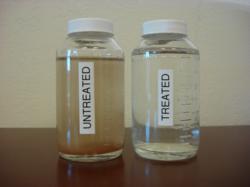 "KKMI has proven it is possible to meet the highest regulatory standards for water quality and hitting benchmark is a significant milestone for all industries working in or on San Francisco Bay," said Cal Noling, President and CEO of StormwateRx
Sausalito, CA (PRWEB) July 12, 2011
KKMI Sausalito, LLC has achieved the distinction of becoming the first Bay Area boatyard to meet California's rigorous benchmarks for stormwater management. These benchmarks are an important step in demonstrating proper filtration and treatment to reduce the harmful effects of toxic metals on water quality in San Francisco Bay. KKMI's recent testing for copper, lead and zinc is in compliance as required by the Clean Water Act and monitored by the State Water Resource Control Board.
These results are of particular importance as California's Coastkeeper Alliance has reported to the State Water Resource Board that in Northern California there are 14 boatyards that did not comply with their permit requirements in testing for these heavy metals. The timing is also important as San Francisco readies for the America's Cup in 2013 with a major environmental initiative underway to protect the Bay from additional pollution.
Completed in 2010, KKMI's location at Clipper Yacht Harbor in Sausalito is a state-of-the-art marine services operation equipped with a stormwater prevention wall, airborne particulate containment system and an industrial stormwater filtration system manufactured by StormwateRx. As part of the regulatory testing process, KKMI worked with Frog Environmental, a third-party contractor, to assist in the coordination of water sample collection and ongoing reporting requirements. The timing of KKMI's results is also significant given that no later than July 1, 2011 every company with an impact on storm water is required to file their Annual Report with the Regional Water Quality Control Board.
"KKMI has proven it is possible to meet the highest regulatory standards for water quality and their ability to hit benchmark is a significant milestone for all industries working in or on San Francisco Bay," said Cal Noling, President and CEO of StormwateRx LLC. "KKMI has gone the extra mile to be in compliance and is an example of what will become mandatory for others in the future."
The California Water Environment Association recently named KKMI's Sausalito location Northern California Small Industry Facility of the Year for its accomplishments in the area of environmental protection and wastewater control. KKMI's trained staff, including a Safety, Health and Environment Manager, Dennis Huette, who oversees the company's environmental regulatory compliance process and manages health and safety issues at both locations.
"KKMI's unwavering commitment to implementing cutting-edge environmental practices echoes their commitment to excellent workmanship and attention to detail," said Capt. Tuulli Messer-Bookman, USCG Unlimited Tonnage Master – Open Oceans. "I know their employees will do the right thing, even when they don't have to and no one is looking. That's why we bring our ketch Pelorus Jack to KKMI."
With a second operation in Pt. Richmond, KKMI offers comprehensive yacht maintenance services and has been a leader in the movement to protect San Francisco Bay from toxic industrial waste including the elimination of copper from anti-fouling paints in their stormwater discharges. Jason Flanders, Staff Attorney of San Francisco Baykeeper said of KKMI, "I would like to extend our sincere gratitude for KKMI's constant efforts to prevent boat yard work from contributing significant pollution to San Francisco Bay."
"We are as passionate and serious about protecting the environment as we are about sailing," said Paul Kaplan, one of the founding partners of KKMI. "It is important to our customers and our employees, and it is critical for the health of the Bay that our industry maintains the highest level of environmental compliance."
About KKMI
Started in 1996 in Pt. Richmond, CA, KKMI is now one of the leading maritime companies in Northern California. KKMI operates two service centers in Pt. Richmond and Sausalito, CA and offers a broad range of marine services for Bay Area boat owners including yacht maintenance and sales. KKMI is supported by the finest craftsmen in the industry and is committed to maintaining the highest levels of environmental compliance. http://www.kkmi.com
About StormwateRx
StormwateRx designs and manufactures stormwater treatment systems that help industrial sites across North America remove pollutants from stormwater runoff. Products include the Clara®, a plug flow separator system; Retenu™, a roughing filter; Aquip®, a stormwater filtration system and Purus™, a stormwater polishing system. The company has supplied more than 150 systems for stormwater filtration and stormwater pollution control in the industrial sector, and is expert with retrofit design advice. StormwateRx has also developed a series of Industry Remedies that include best practices and ideal product configurations to address the unique environmental concerns of different industries. For more information on how StormwateRx can help industrial sites comply with even the toughest environmental stormwater regulations, please visit http://www.stormwaterx.com
# # #