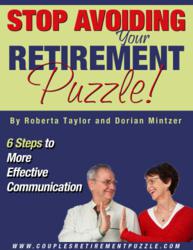 Unlike other books about redefining retirement on the market today, we offer couples a road map for effective communication using a template of ten (10) different conversations that begin the process of crafting a shared vision for retireme
Waltham, MA (PRWEB) July 22, 2011
More than seventy-eight million baby boomers are pioneering a new life stage characterized by living and working longer, often called the "third stage" of life. A new free ebook, Stop Avoiding Your Retirement Puzzle: 6 Steps to More Effective Communication, by retirement coaches Roberta Taylor and Dorian Mintzer, provides a wake-up call to couples as they approach this critical, "third stage" of life. Taylor and Mintzer outline a 6-step process to effective communication that helps couples successfully navigate this transition.
Fidelity recently released a Couples Retirement Study which indicates that couples aren't communicating about these issues. Kathleen A Murphy, president of Personal Investing at Fidelity notes, "Millions of American couples have worked very hard to save for retirement. However, far too many don't take the time, or have the comfort level, to jointly discuss their plans for the future. "
The steps outlined in the free ebook, "Stop Avoiding Your Retirement Puzzle" enables couples to move forward with this issue. Taylor adds, "When couples are able to communicate effectively and know how to compromise and negotiate, they are less likely to avoid the often difficult and uncomfortable issues related to retirement transition."
"Unlike other information about redefining retirement on the market today," notes Mintzer, "we offer couples a road map to getting on the same page when it comes to their 'what's next' vision."
In this ebook, couples will discover:
--How to start this complex conversation, even when both partners are committed to communicating
--The #1 secret to clear communication so that you avoid playing the "blame game"
--How to hone your skill and discipline at the most difficult part of effective communication -- it's the best way to show your partner that you really want to hear what is being said
--The 4 crucial steps to successfully bringing up difficult issues
--The best way to successfully negotiate different viewpoints or areas of disagreement
--9 key ways to work together as a team to achieve positive outcomes and benefit the relationship
Stop Avoiding Your Retirement Puzzle: 6 Steps to More Effective Communication, is available at http://www.StopAvoidingYourRetirementPuzzle.com
Dorian Mintzer, M.S.W., Ph.D. is a licensed psychologist, career/life transition coach, executive coach, teacher and speaker who facilitates workshops and speaks to community and professional groups on topics related to mid-life issues. She is founder of the Boomers and Beyond, a special interest group for interdisciplinary professionals. Roberta K. Taylor, RNCS, M.Ed., is a licensed psychotherapist, life planning coach and consultant, couples relationship coaching specialist and NSA speaker who facilitates workshops and speaks to professional and community organizations on topics related to midlife and retirement transition.
Further information is available at: http://www.CouplesRetirementPuzzle.com or at info [at] couplesretirementpuzzle.com
###