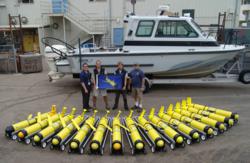 East Falmouth, MA (PRWEB) July 12, 2011
Teledyne Webb Research (TWR) announced today that it has reached the second production milestone in the Littoral Battlespace Sensing – Glider program with the U.S. Navy. Along with Teledyne Brown Engineering, Inc of Huntsville, Alabama, and the University of Washington – Applied Physics Lab, the Teledyne companies have already delivered the 15 Low Rate Initial Production (LRIP) Gliders to the Navy's Program Executive Office for C4I. The LRIP gliders have passed their acceptance testing and the Milestone Decision Authority has approved entry into Full Rate Production (FRP). The first FRP option, if exercised, calls for the production of 35 additional gliders. The contract provides for up to 150 gliders in total. The value of the contract, if fully optioned, is just over $53.1 M. The design and development phase of the contract was completed in August of 2010 and the Low Rate Production contract was awarded in the fall of 2010.
"We are extremely proud to have the Slocum glider selected by the U.S. Navy for this important program. The glider has been a workhorse in many programs. Our recent award of both the coastal and open ocean glider programs for the Ocean Observation Initiative (OOI) of the National Science Foundation further demonstrates the reputation of the gliders as versatile, reliable, and efficient", said Thomas W. Altshuler, General Manager of Teledyne Webb Research.
The Navy will use both deep and shallow water gliders in the LBS-G program to acquire critical oceanographic data that will improve positioning of fleets during naval maneuvers. The gliders are low cost, use minimal power, and can remain at sea for long periods of time.
Gliders were first conceived by Douglas Webb, the founder of Webb Research and a former researcher at the Woods Hole Oceanographic Institution (WHOI). The Slocum G2 Glider is a torpedo-shaped autonomous underwater winged vehicle that measures two meters in length and uses changes in buoyancy along with its wings and tail-fin steering to move through the water.
About Teledyne Webb Research
Teledyne Webb Research designs and manufactures scientific instruments for oceanographic research and monitoring. Teledyne Webb Research specializes in three areas of ocean instrumentation: Neutrally buoyant, autonomous drifters and profilers, autonomous underwater gliding vehicles, and moored underwater sound sources. Teledyne Webb Research, and its sister companies, Teledyne Benthos and Teledyne Gavia are leading producers of underwater vehicles for Science, Oil and Gas, and Military markets. More information about gliders and other Teledyne Webb Research products can be found at http://www.webbresearch.com.
About Teledyne Technologies
Teledyne Technologies is a leading provider of sophisticated instrumentation, digital imaging products and software, aerospace and defense electronics, and engineered systems. Teledyne Technologies' operations are primarily located in the United States, Canada, the United Kingdom and Mexico. For more information, visit Teledyne Technologies' website at http://www.teledyne.com.
Forward-Looking Statements Cautionary Notice
This press release contains forward-looking statements, as defined in the Private Securities Litigation Reform Act of 1995, relating to a contract award. Actual results could differ materially from these forward-looking statements. Many factors, including funding, continuation and award of government programs could change the anticipated results.
###