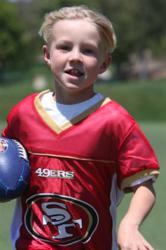 Aliso Viejo, CA (PRWEB) July 12, 2011
Are you ready for some NFL action featuring your Most Valuable Players? NFL players may still be on strike, but NFL Flag South Orange County, a new, fun, fair, safe no-contact flag football league is just about to begin.
"We are excited to bring NFL Flag to South Orange County. We have real jerseys, a pristine playing field, excellent coaches and lots of players ready to have fun, while learning about football and teamwork!" boasts Nancy Vos, League Organizer.
Online registration is now open until August 31, 2011 at http://www.nflflag.com/website/home/southorangecounty. Registered players will be assigned to one of the 32 NFL teams and receive an official NFL Flag jersey and flag belt. Season begins 9/10 at St. Mary's School in Aliso Viejo.
###