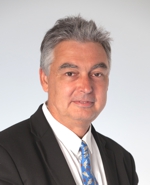 I look forward to providing leadership at the Board level particularly in manufacturing and commercial activities.
Geneva, Switzerland (PRWEB) July 13, 2011
Selexis SA, a global life science company with technologies for drug discovery, cell line development and scale-up to manufacturing of therapeutic proteins announced today the Company's CEO, Dr. Igor Fisch, has been elected to Affitech's (NASDAQ OMX Copenhagen) board of directors effective April 28, 2011. Denmark-based Affitech is a biotechnology company dedicated to the discovery and development of human antibody based therapeutics in cancer and other diseases with unmet medical needs.
"I am excited to be joining Affitech at this stage when it is transitioning into a more development focused company," said Igor Fisch, Ph.D., CEO of Selexis. "I look forward to providing leadership at the Board level particularly in manufacturing and commercial activities."
About Selexis SA
Headquartered in Geneva, Switzerland, Selexis SA is a privately held biotechnology company dedicated to the development of innovative technologies and world-class expert services that significantly reduce the time, effort, and costs associated with developing high-performance mammalian cell lines for therapeutic protein production (i.e. MAbs, growth factors, enzymes). The Company's SURE Cell Line Development™ Technology Platform is based on Selexis Genetic Elements™ -- novel DNA-based elements that control the dynamic organization of chromatin within all mammalian cells and allow for higher and more stable expression of recombinant proteins. The technology platform also includes Selexis SUREtech Vectors™, Selexis SUREfection™ Transfection Methods, Selexis SUREvariant Screening™ and the proprietary Selexis SURE CHO-M Cell Line™.
For more information visit http://www.selexis.com
About Affitech
Affitech AS is a publicly traded (NASDAQ OMX Copenhagen) human therapeutic antibody company based in Copenhagen, Denmark with R&D facilities in Oslo, Norway. The company utilizes a range of proprietary antibody technologies for the discovery of fully human antibodies for application in oncology, inflammation and other disease areas. CBAS™ (Cell Based Antibody Selection) is Affitech's premier discovery engine for the isolation of lead antibodies to cell surface molecules. Affitech co-develops its two lead antibody drug candidates AT001/r84 and AT008/CCR4 with Russian partner IBC Generium. Further information is available at http://www.affitech.com .
# # #