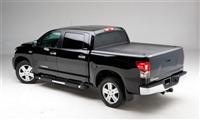 Compton, CA (PRWEB) July 19, 2011
4 Wheel Parts, the leading distributor of off-road parts for trucks, Jeeps, and SUVs, now carries UnderCover tonneau covers on its website and in 4 Wheel Parts retail stores. UnderCover tonneau covers are made from a composite ABS material, which makes them lighter and stronger than their fiberglass counterparts.
4 Wheel Parts offers three UnderCover products: the UnderCover Classic tonneau cover, UnderCover SE tonneau cover, and UnderCover SE Smooth tonneau cover. All three products are one-piece, hinged, hard-shell tonneau covers weighing less than 60 lb. each. Truck owners often prefer lighter tonneau covers, because they're easier to remove and replace. All UnderCover truck bed covers also feature quick release hardware, for added convenience. The UnderCover SE Smooth cover is delivered with a smooth finish that can be custom-painted to match any truck.
With the addition of UnderCover, 4 Wheel Parts now carries nine brands of tonneau covers, including BAK, Pace Edwards, TruXedo, and Lund.
Tonneau covers, also called truck bed covers, convert a truck's open-air bed into a sealed, lockable compartment. They also improve a truck's aerodynamics and fuel efficiency. Truck owners can choose from hard, one-piece tonneau covers or soft tonneau covers, which are typically of high-strength vinyl. Hard covers provide sleeker styling and better security, but they are more cumbersome to use. Soft tonneau covers have the advantage of being easier to remove and store. Truck owners can browse a broad selection of hard and soft tonneau covers, plus related accessories at http://www.4wheelparts.com/
About 4 Wheel Parts: 4 Wheel Parts is celebrating 50 years as the nation's leading truck and Jeep accessory superstore. The company supplies off-road parts and accessories for trucks, Jeeps, and SUVs, through its nationwide chain of retail stores and its website, 4WheelParts.com. Popular products include performance parts, lift kits, tonneau covers, and fender flares. Visit 4WheelParts.com to learn more.
###