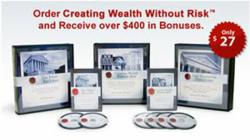 Download our Tax Lien Sales Investing Course, and you Will Discover the Investment Secret the Wealthy Have Kept Quiet For Over 150 Years!
Denver, CO (PRWEB) July 13, 2011
The Tax Lien Certificates Network unveiled a 43% price reduction for its most popular Tax Sales Investing Home Study Course, Creating Wealth with Risk. With current economic woes causing many Americans to no longer trust traditional investments, the company reduced the price of its training course from $47 to $27 so more people can learn about less volatile alternatives.
The course starts off by explaining to the students the difference between the various types of tax-defaulted paper. It then provides a complete overview of property tax laws and why the high-yielding tax lien certificates are much safer "bets" than stocks and bonds. Once the students have a firm understanding of the tax lien investing concepts, they are given a step-by-step guide that teaches them how to properly determine the true value of a tax certificate before putting down their hard-earned cash.
To insure students use good overall strategies, the course features investment summaries for the states that sell tax defaulted paper and it lists key contact information for participating counties within those states. Finally, the students are taught how to setup Self-Directed ROTH IRA accounts. This allows them to legally avoid paying taxes on their tax lien investments.
About the Tax Lien Certificates Network
The Tax Lien Certificates Network is a premier source of information in the areas of tax lien certificates and tax deeds. The company was established as a one-stop hub for distributing information related to Tax Sales Investing. The company's objective is to teach the public about less risky tax lien investments and how they may be purchased at reasonable prices. For more information about tax sales investing, please contact:
PO Box 371432, Denver, CO 80237
###