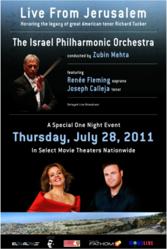 "LIVE FROM JERUSALEM celebrates the 75th year of the Israel Philharmonic Orchestra,"says Danny Gold. "It shows the universal language of music that permeates all cultures, languages, politics and generations," says Matthew Asner.
Los Angeles, CA (PRWEB) July 13, 2011
Zubin Mehta conducts the Israel Philharmonic Orchestra in the breathtaking city of Jerusalem with a special one-night event featuring soprano Renée Fleming and tenor Joseph Calleja. NCM Fathom and Mod 3 Live present LIVE FROM JERUSALEM*: An Evening with the Israel Philharmonic Orchestra, Conducted by Zubin Mehta with Soloists Renée Fleming and Joseph Calleja on Thursday, July 28 at 7:00 pm (local time). Filled with majestic arias and duets, the performance includes a sweeping visual and audio experience that will bring down the curtain on the Jerusalem Season of Culture 2011.
Tickets for LIVE FROM JERUSALEM*: An Evening with the Israel Philharmonic Orchestra, Conducted by Zubin Mehta with Soloists Renée Fleming and Joseph Calleja are available at participating theater box offices and online at http://www.FathomEvents.com. For a complete list of theater locations, please visit the website (theaters and participants are subject to change).
Set before the beautiful backdrop of the Jerusalem landscape, LIVE FROM JERUSALEM*: An Evening with the Israel Philharmonic Orchestra, with Maestro Zubin Mehta Featuring Renée Fleming and Joseph Calleja will be broadcast to more than 480 select theaters through NCM's exclusive Digital Broadcast Network.
"LIVE FROM JERUSALEM* will take audiences of all cultures and generations on a journey to Jerusalem to experience exclusive performances conducted and performed by the world's greatest talents," said Dan Diamond, vice president of Fathom.
Known as "America's Beautiful Voice," Renée Fleming has a devoted international following wherever she appears, whether on the operatic stage, in concert or recital, on television, radio or on disc. One of the most beloved and celebrated musical ambassadors of our time, Fleming captivates audiences with her sumptuous voice, consummate artistry and compelling stage presence. Known as "the people's diva" and named the No. 1 female singer by Salzburger Festspiele Magazine in 2010, she continues to grace the world's greatest opera stages and recently received her third Grammy-award® for the Decca recording, "Verismo."
Already one of the tenors most sought after by leading opera houses on both sides of the Atlantic, Joseph Calleja has routinely been compared to "legendary singers from earlier eras: Jussi Björling, Beniamino Gigli, even Enrico Caruso" (Associated Press). The Maltese tenor's recent successes include role debuts at the Metropolitan Opera and at the Royal Opera House, Covent Garden. Calleja's engagements have placed him in 28 leading roles and taken him to virtually every major European city, an outstanding achievement for a 33-year-old. An exclusive Decca Classics recording artist since 2003, his new recording The Maltese Tenor will be released in the U.S. this fall.
Internationally-renowned orchestral and operatic conductor Zubin Mehta has had a remarkable association with the Israel Philharmonic Orchestra (IPO) for five decades. He was appointed the orchestra's music director in 1969, a position that was extended for life in 1981. The bond that was established between Mehta and the IPO, Israel's finest cultural emissary, has grown into what he calls a "lasting marriage" of creative prosperity. For his outstanding work with major orchestras and opera companies around the world Mehta has garnered numerous awards including a Kennedy Center Honor in 2006 and a star on the Hollywood Walk of Fame in 2011.
Fleming and Calleja's performances are in tribute to Richard Tucker, the great American tenor, renowned Cantor and devoted friend of Israel; the Tucker family and the Richard Tucker Music Foundation. Other event sponsors include EL AL Airlines and the American Friends of the Israel Philharmonic Orchestra.
*Broadcast Delayed
About National CineMedia (NCM)
NCM operates NCM Media Networks, a leading integrated media company reaching U.S. consumers in movie theaters, online and through mobile technology. NCM Cinema Network and NCM Fathom present cinema advertising and events across the nation's largest digital in-theater network, comprised of theaters owned by AMC Entertainment Inc., Cinemark Holdings, Inc., Regal Entertainment Group and other leading regional theater circuits. NCM's theater advertising network covers 170 Designated Market Areas® (49 of the top 50) and includes approximately 17,200 screens (16,100 digital). During 2010, over 680 million patrons attended movies shown in theaters currently included in NCM's network (including Consolidated Theatres, Rave Cinemas, Coming Attractions and Digiplex Destinations). The NCM Fathom Events broadcast network is comprised of over 600 locations in 163 Designated Market Areas® (all of the top 50). The NCM Interactive Network offers 360-degree integrated marketing opportunities in combination with cinema, encompassing 43 entertainment-related websites, online widgets and mobile applications. National CineMedia, Inc. owns a 48.6% interest in and is the managing member of National CineMedia LLC. For more information, visit http://www.FathomEvents.com.
About Mod 3 Live
Mod 3 Live was founded by Mod 3 Production partners Danny Gold and Matthew Asner, who joined forces with entrepreneur Andrew Friedman. In response to the overwhelming thirst for quality live theatrical events, they created Mod 3 Live, which is a full service (from production to marketing) company focusing on large scale live cinecast events. For more information, visit http://www.mod3live.com.
# # #