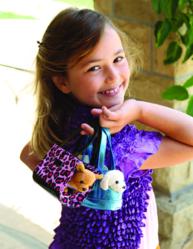 "Anyone who has a little girl in their life needs to check out Pawparazzi Pets!" ~ Laura, New Age Mama Blogger
Santa Barbara, CA (PRWEB) July 13, 2011
Noodle Head, Inc. has announced that their line of Pawparazzi® collectible toys will now be entering the mass market, starting with Toys R Us at the end of this summer.
Pawparazzi® pets are a cast of miniature plush dogs & cats with celebrity personalities mimicking the lifestyle of the rich and famous. Launched in 2006, Pawparazzi® has a loyal following among girls ages 4-11, engaging them in a glamorous, imaginative world of fashion and fun. The well developed character personalities and back-stories, collectibility and fashion-forward components make this brand a unique proposition.
The new mass market product line will have a more affordable price point but still maintain the high level of detail, quality and play value as the successful specialty line. Toys R Us has been intimately involved in helping develop the direction of the line for mass market.
In addition, the company has launched Planet Pawparazzi® (http://www.planetpawparazzi.com), a unique virtual playground, as an extension of the brand. Planet Pawparazzi® offers girls an
entertainment platform where they can both play and learn. The site is filled with interactive games and activities that Pawparazzi® fans, pet lovers, and young fashionistas will love.
Additional Pawparazzi® brand extensions are underway including an integrated licensing and merchandising program with publishing, interactive, apparel, accessories, social expression, home décor, entertainment and much more. Bennett Branding is spearheading this effort.
Media contact:
Susan DeCoste
Noodle Head, Inc.
805-962-3084
susan(at)noodleheadfun(dot)com
Licensing Contact:
Sharon Bennett
Bennett Branding
202-906-0243
sharon(at)bennettbranding(dot)com
###