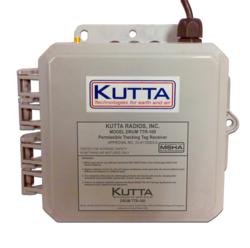 If there are any mines that still need tracking or communication systems for MINER Act compliance, the Kutta system can be quickly and easily installed
Klingerstown, Pennsylvania (PRWEB) July 12, 2011
Kutta Radios, Inc. announced today that it has completed installations of its new Tracking System and DRUM® Voice Communication System in four coal mines in Pennsylvania. The Tracking System received Part 23 Approval from the Mine Safety and Health Administration (MSHA) earlier this year, and the installations for all four mines were completed in just a couple of days time, bringing the coal mines into full compliance with the MINER Act.
"If there are any mines that still need tracking or communication systems for MINER Act compliance, the Kutta system can be quickly and easily installed," said Kutta's CEO, Douglas Limbaugh. "Our system provides mine operators with an easy installation and a reliable and safe voice and tracking system, all for a lower price than other systems on the market. Our customers much prefer voice communication over text messaging because of the day-to-day productivity gains voice communications provide," Limbaugh added.
This revolutionary new system is simple to install, and according to company officials, most installs can be completed in less than two days. The system also has the ability to interoperate with other tracking systems currently on the market, and the readers have self-contained batteries so no external power is required. "This new system greatly reduces the cost to mine operators for installing and maintaining redundant tracking systems in order to be compliant with the latest MSHA Program Policy Letter" commented Matthew Savoca, Kutta's President.
The Kutta DRUM® Tracking System can be paired with the Kutta DRUM® Communication System to offer mines a complete, MSHA Approved, MINER Act compliant voice communication and tracking solution.
Kutta Radios, Inc., a subsidiary of Kutta Technologies, Inc. designs and builds radios for the underground mining industry, first responders, and the US Army. For information on the DRUM system, or to schedule a demonstration, e-mail hinfo(at)KuttaRadios(dot)com, visit http://www.KuttaRadios.com, or call 1-866-574-9990.
# # #