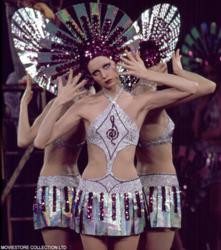 " 'The Boy Friend' is a Busby Berkeley type of stylish extravaganza, rich in its fantasy art deco and art nouveau costumes and settings," according to ADG President Tom Walsh.
Los Angeles, California (PRWEB) July 12, 2011
The Art Directors Guild (ADG) Film Society and American Cinematheque will screen the original widescreen color "directors cut" of Ken Russell's "The Boy Friend" (1971), an all but lost treasure with few surviving prints, on Sunday, July 31 at 5:30 p.m. at the Aero Theatre (1328 Montana Avenue, Santa Monica). The film's Award winning Stage, Costume and Production Designer Tony Walton (All That Jazz, A Funny Thing Happened On The Way To The Forum, Murder On The Orient Express, The Wiz, Pippin) will take part in a panel discussion moderated by ADG President Thomas A. Walsh following the screening. The third in this year's series highlighting the work of renowned Production Designers and their creative colleagues, the discussion will focus on the art of adapting and designing musicals for the screen.
Set in the stylish 1920's of England,"The Boy Friend" is a Busby Berkeley type of stylish extravaganza, rich in its fantasy art deco and art nouveau costumes and settings. The film stars the famous sixties model Twiggy, singing and dancing in her film debut. Co-starring Broadway musical star Tommy Tune, and actor Christopher Gable in the story of a young stage actress who falls for a visiting film producer on her very first night as a stand-in for the leading lady. The film's celebrated "bad boy" director Ken Russell, famous for going wild when unleashed, was named Best Director by the National Board of Review, and Twiggy won two Golden Globes® for Best Newcomer and Best Actress in a Comedy or Musical.
Tony Walton received the Best Art Direction Oscar® for "All That Jazz" and was nominated for an Academy Award® for "The Wiz," "Murder on the Orient Express" and "Mary Poppins." He won an Emmy® for his work on "Death of a Salesman," and is a multi-time winner and nominee of Broadway's most prestigious prize, The American Theatre Wing's "Tony" Award.
Representing the ADG are Walsh and Production Designer, John Muto. Working with them are the American Cinematheque's Gwen Deglise and Grant Moninger. General admission: $11. American Cinematheque members: $7. Students/Seniors with valid ID: $9. All screenings start at 5:30 p.m. 24-hour information is available at 323-466-FILM (3456). Tickets can also be purchased on http://www.Fandango.com.
For images, please visit the following website:
https://www.yousendit.com/download/UnlEeW4zQzNJMHZ2Wmc9PQ
About the Art Directors Guild:
The Art Directors Guild (IATSE Local 800) represents nearly 2,000 members who work throughout the United States, Canada and the rest of the world in film, television and theater as Production Designers, Art Directors, and Assistant Art Directors; Scenic, Title and Graphic Artists; Illustrators and Matte Artists; and Set Designers and Model Makers. Established in 1937, ADG's ongoing activities include a Film Society; an annual Awards Banquet, a creative/technology community (5D: The Future of Immersive Design) and Membership Directory; a bimonthly professional magazine (Perspective); and extensive technology-training programs, creative workshops and craft and art exhibitions. The Guild's Online Directory/Website Resource is at http://www.adg.org.
Follow ADG on Twitter: ADG800
For Facebook: https://www.facebook.com/pages/Art-Directors-Guild/108033579217202
About American Cinematheque:
Established in 1981, the American Cinematheque is a 501 C 3 non-profit viewer-supported film exhibition and cultural organization dedicated to the celebration of the Moving Picture in all of its forms. At the Egyptian Theatre, the Cinematheque presents daily film and video programming which ranges from the classics of American and international cinema to new independent films and digital work. Exhibition of rare works, special and rare prints, etc., combined with fascinating post-screening discussions with the filmmakers who created the work, are a Cinematheque tradition that keep audiences coming back for once-in-a-lifetime cinema experiences. The American Cinematheque renovated and reopened (on Dec. 4, 1998) the historic 1922 Hollywood Egyptian Theatre. This includes a state-of-the-art 616-seat theatre housed within Sid Grauman's first grand movie palace on Hollywood Boulevard. The exotic courtyard is fully restored to its 1922 grandeur. The Egyptian was the home of the very first Hollywood movie premiere in 1922. In January 2005, the American Cinematheque expanded its programming to the 1940 Aero Theatre on Montana Avenue in Santa Monica. For more information about American Cinematheque, visit the website at http://www.americancinematheque.com.
Follow the American Cinematheque on Twitter (sidgrauman) and Facebook (Aero Theatre).
###