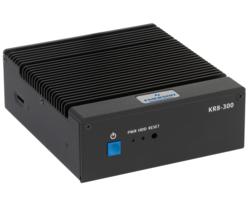 We have integrated our new motherboards based on the latest Intel processors with memory, hard drive and I/O into suitable enclosures that provide automation, retail and medical customers with a complete embedded computing solution ...
Tempe, Ariz., US (PRWEB) July 12, 2011
Emerson Network Power, a business of Emerson and the global leader in enabling Business-Critical Continuity™, today announced a new portfolio of embedded computers for a range of applications including digital signage, intelligent kiosks, industrial control, traffic management, medical clinical instruments, and digital security and surveillance. Based on the latest Intel® processors, these integrated box computers are designed for long-life applications requiring zero or minimum maintenance.
Emerson Network Power is offering two classes of embedded computers: the KR8 and MCASE series. The KR8 series includes small, fanless, metal cased solutions that are designed to be mounted to a screen or instrument. These are noiseless, maintenance-free embedded computers that are available in both standard and extended operating temperature ranges. The MCASE series is designed to be very cost effective with some expansion capability. These are typically supplied in an air-cooled plastic enclosure with mounting options, for operation in an environment of zero to 35 degrees Celsius.
"Whether you call them box PCs, embedded PCs or industrial computers, this new range of embedded computers from Emerson Network Power can speed customers' time-to-market," said Paul Virgo, marketing director of Emerson Network Power's Embedded Computing business. "We have integrated our new motherboards based on the latest Intel processors with memory, hard drive and I/O into suitable enclosures that provide automation, retail and medical customers with a complete embedded computing solution for fast, cost-effective and lower risk deployment."
The first embedded computers in the new portfolio from Emerson Network Power are the KR8-315 and MCASE-820.
The KR8-315 fanless embedded computer features the Intel® Atom™ E640 processor running at 1.0 GHz and 1GB DDR2 soldered RAM. Storage options include a 250GB SATA drive or 64GB Solid State Drive plus a MicroSD slot for storage expansion. A Mini PCI Express slot enables wireless LAN connectivity. Two versions are available: a standard temperature and an extended temperature version. The extended temperature version features the solid state drive to eliminate all moving parts. The KR8-315 is VESA mountable allowing a wide range of installation options. The low-profile slim-line design is appropriate for wall mounting or mounting within larger cabinets or kiosks.
The MCASE-820 features the second generation Intel® Core™ i5 processor, 4GB DDR3 RAM and a 320GB SATA drive to provide the processing and memory required for advanced applications such as video analytics and media control. Embedded graphics and multiple video-out options makes it an ideal fit for applications requiring multi-screen deployment. Full Intel® vPro™ certification provides a robust toolset to integrators and service providers who value security and remote management in their deployed applications.
More information about embedded computers, motherboards and Computer-on-Module (COM) products and technology from Emerson Network Power can be found at http://www.Emerson.com/EmbeddedComputing.
A free eBook from Emerson Network Power, Digital Signage Gets Smart, describes the impact of new technology on the ways that digital signage is used. It offers a guide to a technology architecture for digital signage, based on Intel® embedded technology, that enables customers to rapidly and cost-effectively develop high-performance digital signage products, and to reuse and modify both hardware and software components in multiple variants of platform products.
About Emerson Network Power
Emerson Network Power, a business of Emerson, is the global leader in enabling Business-Critical Continuity™ from grid to chip for telecommunication networks, data centers, health care and industrial facilities. Emerson Network Power provides innovative solutions and expertise in areas including AC and DC power and precision cooling systems, embedded computing and power, integrated racks and enclosures, power switching and controls, infrastructure management, and connectivity. All solutions are supported globally by local Emerson Network Power service technicians. For more information on Emerson Network Power's embedded computing solutions, including ATCA®, COM Express®, CompactPCI®, embedded computers and motherboards, OpenVPX™, VMEbus and the RapiDex™ board customization service for original equipment manufacturers and systems integrators in the telecommunications, industrial automation, aerospace/defense and medical markets, visit http://www.EmersonNetworkPower.com/EmbeddedComputing. Learn more about Emerson Network Power products and services at http://www.EmersonNetworkPower.com.
About Emerson
Emerson, based in St. Louis, Missouri (USA), is a global leader in bringing technology and engineering together to provide innovative solutions for customers in industrial, commercial, and consumer markets through its network power, process management, industrial automation, climate technologies, and tools and storage businesses. Sales in fiscal 2010 were $21 billion. For more information, visit http://www.Emerson.com.
Business-Critical Continuity, Emerson Network Power and the Emerson Network Power logo are trademarks and service marks of Emerson Electric Co. PICMG, AdvancedTCA, ATCA, COM Express and CompactPCI are registered trademarks of the PCI Industrial Computer Manufacturers Group. OpenVPX is a trademark of VITA. Intel and Intel Core are registered trademarks of Intel Corporation in the United States and other countries. All other product or service names are the property of their respective owners. The Embedded Computing business of Emerson Network Power does not claim medical compliance on its embedded computer products nor does it offer medical grade embedded computer products at the time of publishing. © 2011 Emerson Electric Co.
###