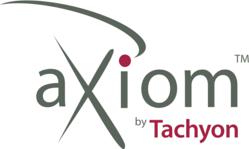 San Diego, CA (PRWEB) July 12, 2011
Tachyon Networks, today, announced they have successfully delivered the aXiom 7300 Integrated Airborne Network Solution for comms-on-the-move (COTM) to their customer, Sierra Nevada Corporation. The complete system, including on-board hardware, ground infrastructure, space segment and network management and monitoring has been operational in-theater in Afghanistan since April. SNC is under contract with Lockheed Martin who is supplying the aXiom 7300 to the US Military for use on their airborne ISR fleet.
"Lockheed Martin is pleased to enable our customer with advanced technologies such as the aXiom 7300," stated Michael Dugan of Lockheed Martin. "We take pride in supplying the US Military with the best communications systems available on aircraft, and SNC, with Tachyon as their satellite systems supplier, have proved themselves the leader in delivering integrated comms-on-the-move systems."
Responding to requirements for a fully-managed end-to-end solution that can deliver up to 15 Mbps upload speeds off an aircraft in flight, Tachyon integrated the aXiom 9300 terminal with an embedded iDirect Satellite Router Board, a Ku-band 18" Mobile Satellite Antenna Subsystem, and an Inertial Reference Unit (IRU). In addition, Tachyon acquired space segment capacity and built ground infrastructure in theater to meet the needs of the US Military.
The outcome of this effort is the aXiom 7300 Integrated Airborne Network Solution. The aXiom 7300 is currently deployed and operating regular C4ISR missions, during which full-motion video is being streamed from aircraft together with Communications Intelligence (COMINT) and Signal Intelligence (SIGINT) and displayed in real time on HD monitoring terminals on the ground. Today, the aXiom 7300 is operational and can deliver up to 15 Mbps data rates per aircraft, and is complimentary to the previous system that has more limited upload speeds. Tachyon manages the network services for both the aXiom 7300 and the prior system, which demonstrates Tachyon's technology agnostic approach to Airborne COTM systems. Tachyon's flexibility for operating mixed hardware systems across a managed network service remains seamless.
"With the aXiom 7300, Tachyon has delivered a solution that allows for upload speeds in excess of the prior solution and has managed it in a backwards compatible manner," said Ken Puckett, Vice President, Logistics and Field Service Integrated Systems at Sierra Nevada Corporation (SNC). "We are extremely pleased to enable Lockheed Martin and their US Military customers with Tachyon's advanced services, which allows real-time delivery of mission critical information, including full-motion video, from aircraft to NetOps and troops on the ground. The end user customer has told us that the video they are seeing through aXiom is the best available on current systems."
The aXiom 7300 uses common iDirect-based ground infrastructure and can easily integrate with hundreds of existing air, land and maritime satellite hubs worldwide. More importantly, aXiom systems have been designed for deployment on specific aircraft types including Gulfstream IV, King Air 200/300/350, De Haviland Dash 7, Cessna Grand Caravan 208B, C-17, C-130 and are adaptable to most UAV's, rotor wing aircraft, ground vehicles and maritime vessels. This enables seamless information interchange among networks providing for an all-encompassing approach to advanced Intelligence, Reconnaissance and Surveillance (ISR) missions.
"Tachyon is pleased that the aXiom 7300 Solution has been successfully deployed by SNC for the past three months," said Peter Carides, CEO of Tachyon Networks. "SNC has a reputation for providing best-in-class solutions for our military's ISR needs, and we are proud to have delivered the industry's leading Airborne COTM solution for their current generation of ISR systems."
About Tachyon Networks
Tachyon Networks, developer of aXiom end-to-end satellite solutions for fixed, portable and COTM applications, delivers the highest quality managed network services for data, voice and video. Tachyon serves government agencies and enterprises that require secure, mission-critical communications over air, land and sea. Enabled by the software-based aXiom Services Platform (ASP), Tachyon's technology-agnostic solutions include management and operation of space segment capacity and teleport facilities, VSAT equipment and antennas and managed network services. Tachyon's financially backed, industry-leading service-level agreement (SLA) guarantees a superior quality of service (QoS). For additional information, please visit http://www.tachyon.com.
###