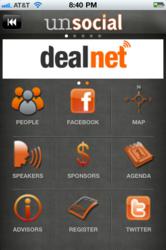 San Francisco, CA (PRWEB) July 12, 2011
Today at the MobileBeat 2011 conference in San Francisco, DealNetTM, Inc. unveiled its mobile advertising platform in collaboration with Unsocial and the official MobileBeat 2011 event application. DealNet combines the location-based capabilities of mobile advertising with the appeal of the daily-deal coupon industry. This gives customers relevant deals from local merchants based on their exact location that can be redeemed with a single click of a button.
DealNet lets businesses of any size easily target hyper-localized customers to deliver daily-deal campaigns directly to nearby mobile devices. Business owners have ultimate control over their deals with a highly targeted audience and result-based costs. Publishers can utilize a tailored platform to monetize top traffic, increase conversions and provide the best inventory for their advertisers. DealNet provides a powerful solution for both publishers and advertisers.
"App developers and advertisers alike have a desperate need to deliver relevant content to consumers with a pure performance-based model," said Kiran Modak, executive vice president, product development at Unsocial. "DealNet's ad network lets us deliver high-value, location specific content with ease across multiple platforms with amazing conversion rates."
The DealNet platform for both iOS, Android and mobile websites, aggregates its ads from direct relations with businesses, daily deal sites, affiliate networks and a soon-to-be-launched self-service bidding platform for businesses. As DealNet bolsters its relationships with merchants and deal networks, more ads and offers will be delivered over the coming months.
"The penetration of the daily-deal deal market into the mobile advertising world is extremely limited. With DealNet we have combined daily-deals with mobile advertising to offer a hyper-location based ad network to local merchants," said Idan Miller, CEO of DealNet. "Our platform was design to enable publishers to get better payouts for their traffic as a result of higher click through rates and higher fill rate. For advertisers, DealNet is definitely a winner as it is low risk and highly targeted."
DealNet was chosen out of 130 nominees to be one of 16 finalists in the MobileBeat 2011 Startup Competition.
Important Links

About Unsocial
Unsocial is a location-based business network that connects users with other business professionals based on proximity and shared information, introducing people to those they want to meet, and need to meet, outside of their existing networks. Providing enhanced functionality for premium conferences and events, Unsocial also provides users with information on proximity-based relevant events and live experiences. A multi-platform application available on iPhone, Android and BlackBerry, Unsocial currently is available in 17 major U.S. cities and continues to expand in the US and worldwide. In the rapidly growing tech arena of mobile, location-based services and events marketing, Unsocial addresses a key need for more advanced networking tools to drive real-time relationships for business. For more information about Unsocial, please visit http://www.unsocial.mobi.
About DealNet, Inc.
DealNet is the first self-service mobile ad network delivering location-based, targeted daily deal ads to customers on apps and mobile sites. Combining the hyper-localization targeting capabilities of mobile advertising (using the users' location when serving the ads) with the appeal of the daily deals coupon industry, DealNet has built a platform to serve daily deal coupons and other types of 'offers' as mobile ads according to the users' location.
DealNet's business model is founded on pure performance-based models (CPA/ CPL/ Rev share), offering all sides in any deal risk-free opportunities, and creating optimal conditions for successful and effective campaigns.
The venture, founded by Idan Miller (CEO Of Amazecell, a world leader of direct to consumer Mobile content provider) and Kobi Marenko (CEO of Logia Group, a world leader of B2B Mobile infrastructure solutions) is led by seasoned entrepreneurs in the performance-based online marketing, online advertising and mobile marketing industries.
For more information please visit http://www.dealnet.mobi
###