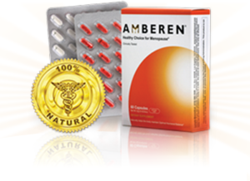 Amberen offers a transformative experience for women, by leveraging their body's own ability to balance hormones in a natural, safe way."
Los Angeles, CA (PRWEB) July 12, 2011
Lunada Biomedical announced today its extraordinary customer satisfaction rate for Amberen, its flagship menopause relief product. Amberen's unprecedented client satisfaction rate rose during the company's 2010-2011 sales year, with 92.6 percent of women who tried the product purchasing a full course of the natural menopause remedy.
Targeting symptoms of menopause ranging from hot flashes and mood swings to fatigue and menopausal weight gain, Amberen has quickly become a leading brand in menopause relief since its 2006 debut on the U.S. market. With cutting-edge "small molecule" technology, Amberen's specialized formula rejuvenates hormonal function, enhancing the body's natural ability to regulate hormones on its own. As hormone levels normalize in clients, menopause symptoms dissipate.
"The results speak for themselves," said Emil Chiaberi, Lunada Biomedical Chief Marketing Officer. "Amberen offers a transformative experience for women, by leveraging their body's own ability to balance hormones in a natural, safe way."
Amberen's singular customer service offerings also seem to have resonated with women. Amberen clients receive access to NurseAid, providing one-on-one client consultations with licensed advice nurses specializing in menopausal health issues. Women take Amberen in dedicated three-month courses, alternating with breaks of equal length. Through NurseAid, women can access unlimited consultations for the entire six-month therapeutic cycle.
Amberen's popularity has risen in the wake of growing health concerns about traditional menopause treatments among women. Once regarded as the gold-standard for menopause treatment, hormone replacement therapy (HRT) has since been abandoned by many patients, largely due to government-released studies disclosing the therapy's significant health risks since 2002 – including heightened rates of cancer, heart disease, strokes and blood clots. Bioidentical hormone replacement therapy (BHRT) has met with similar outcomes, as preliminary FDA reports suggest equivalent risks are likely associated with compounded hormones.
Customers have championed Amberen as a drug-free alternative for menopause relief, as part of the resulting demand for natural menopause therapies and growing frustration at low efficacy rates of dietary supplements. With proven clinical trials and 35 years of scientific research, Amberen differentiates itself in a market flooded with lookalike herbal menopause solutions. Because the majority of natural menopause brands offer low-level symptom relief through the same three ingredients – black cohosh, red clover and soy – core causes of menopause symptoms remain untreated. Amberen's ability to affect aging hormonal function allows it to stop menopause symptoms at the source, offering high levels of relief by helping the body reachieve natural hormonal balance.
"When dietary supplements don't work, many women begin to feel that hormone replacement therapy is their only choice, despite risks to their health," added Chiaberi "Amberen provides women with a natural alternative that's backed by science and can offer the relief they deserve."
Amberen's customers also welcome the product as an affordable solution for menopause relief amid a challenging economy. The product's low price tag allows women to experience menopause relief for $0.55 per day, making Amberen more affordable than a single doctor's visit – and a popular option for those who find other forms of menopause therapy cost prohibitive.
Women can sign up for a risk-free, 30-day trial of Amberen by calling, toll-free (800) 993-6339 or visiting http://www.amberenonline.com/.
About Lunada Biomedical
Founded in 2006, Lunada Biomedical develops drug-free natural products which promote ongoing health and longevity. Lunada Biomedical's extensive product pipeline includes natural therapeutics, bio cosmetics, sports nutrition and medical testing supplies.
Lunada Biomedical is a research-driven company based in Los Angeles, CA. The company's research activities focus mostly on developing drug-free options for maintaining optimal health and promoting longevity. Lunada Biomedical manufactures its own ingredients using a proprietary platform manufacturing technology. Presently, Lunada Biomedical is the only company in the world that commercially produces active conformers of succinates and fumarates, which are intermediary metabolite that power mitochondrial function. All Lunada Biomedical products are manufactured at a GMP certified plant in California.
###