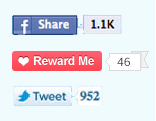 The 'Reward Me' button gives visitors to your site a reason to engage with you through Social Media.
Melbourne, Victoria (PRWEB) July 13, 2011
With many businesses now using social media to attract customers, Get Satisfaction reported last week that 69.8% of people follow brands because they (1) would like a Special Offer, or (2) because they are current customers of that brand. But according to AllFacebook.com, only 3% to 7.5% of fans see posts by businesses they are following.
A new social sharing button, launched by CrowdSauce this week, caters for businesses looking to engage with loyal customers or website visitors. In the same way that businesses can add the Facebook 'like' or Twitter 'share' button to their page, CrowdSauce let's the business add the 'Reward Me' button to their page. Customers selecting the button can then register with Facebook Connect and share their 'Reward Me' request on their Facebook wall. The process builds a database for the business of people pressing the 'Reward Me' button and provides options for businesses to promote deals to their customers via either daily deals or self-service membership packages.
According to CEO Slade Sherman, "Social Media buttons work really well for publishers but many businesses add buttons to their pages for little benefit. People either do not share business pages, or messages published on Facebook are not seen by the majority of fans. We have developed the 'Reward Me' button to give visitors to your site a reason to engage with you and to capitalize on web traffic by engaging with fans who visit your business website".
Through CrowdSauce.com people can ask for deals at over 17 million business locations and build the crowd based on interest in receiving a deal from any business via the website and mobile applications. The 'Reward Me' button, as an extension of this service, puts the business owner in control of their customer crowd. The system enables a range of business benefits including social media marketing, location based marketing and full integration via the CrowdSauce API.
For more information on the Reward Me button or to add the button to your website visit the website.
###