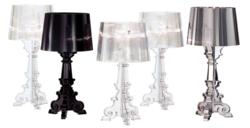 Sacramento, CA (PRWEB) July 12, 2011
Lumens.com announces its summer Kartell Sale now through July 17, 2011, offering a discount on all lighting, furniture, accessories and more from the Italian manufacturer. For 7 days only, customers can save 15% on Kartell's entire collection, including products from renowned designers like Philippe Starck and Ferruccio Laviani.
Kartell is known around the globe for its vibrant, original polycarbonate pieces, and their plastic makeup makes them versatile for both indoor and outdoor living. With an extensive collection of chairs, tables, table lamps, accessories and more in bright, vibrant colors, Kartell furniture is a perfect addition to contemporary homes and outdoor living spaces. Working with coveted contemporary designers like Starck and Patricia Urquiola, Kartell's signature pieces are lively and modern, made from colorful and transparent plastic. Some of Kartell's best-selling products include:
Victoria Ghost Chair: A favorite from Philippe Starck, the Victoria Ghost Chair is included in the Kartell Sale. Made from Kartell's signature polycarbonate and available in 10 bold colors.
Componibili Round Storage Modules: Designed by Anna Castelli Ferrieri, the Componibili Storage Modules have been produced for more than 30 years and is exhibited at the Museum of Modern Art in New York. These functional modules are perfect for bedside tables, bathroom storage and more.
FLY Suspension Lamp: Made in all colors of the rainbow with an imperfect hemispherical shape. It's transparency and the sheen of the various colors is reminiscent of a bright soap bubble. Designed by Ferruccio Laviani, the FLY Suspension Lamp is one of Kartell's mos-loved contemporary lighting fixtures.
Bourgie Table Lamp: Also designed by Ferruccio Laviani, the Kartell Bourgie Table Lamp combines ultra-modern technology with tried-and-true form to create a 21st Century bourgeoisie lighting element made of transparent polycarbonate.
Also included in the Kartell sale are Kartell's much-buzzed about products, including:
Masters Chair: Featured in the New York Times, this design from Philippe Starck and Eugeni Quitllet was created to pay tribute to three contemporary design icons: the Series 7 by Arne Jacobsen, the Tulip armchair by Eero Saarinen and the Eiffel Chair by Charles Eames. The overlapping lines in the chair's back are outlines of these three famous designs. Made of outdoor-friendly polypropylene, the Masters Chair is also included in the Kartell Sale.
Bloom Pendant: The Bloom from is composed of a polycarbonate tubular framework encrusted with tiny double corolla polycarbonate flowers. Bulbs within the internal framework diffuse beams of light that reflect off faceted surfaces.
Tic&Tac Clock by Kartell: The first wall clock produced by Kartell, designed by Philippe Starck and Eugeni Quitllet. Featuring a clean square shape, with a clear ABS case engraved with Roman numerals surrounding a flat inner clock face of PMMA.
Lumens offers a full range of Kartell designs, including suspension lights, pendants, sconces, bookshelves, storage containers, tables and a wide variety of accessories.
In addition to the discount offered in the Lumens Kartell Sale, Lumens.com also offers:
-Low-price guarantee
-Expert service via our customer service center
-Easy, no-hassle returns
-Volume order discounts
-More than 300 manufacturers, from contemporary lighting to transitional fixtures and modern furnishings, gifts and home accessories.
For additional information on Kartell or this exclusive offer from Lumens.com, contact Sarah Schaale or visit lumens.com.
About Lumens Light + Living:
Lumens Light + Living is dedicated to offering the very best of design-oriented lighting, fans and home accessories, from the most contemporary international designs to modern interpretations of classic design.
Contact:
Sarah Schaale, Assistant Marketing Manager
Lumens Light + Living
916-444-5885
http://www.lumens.com
# # #