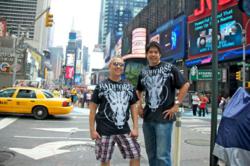 Watching these guys is like Wow! I am a Fan for Life!
Long Island, NY (PRWEB) July 14, 2011
Global Maximus Records (GMR) July 12, 2011- announced today that country music artists "BadHorse" performed on the 3rd of July at the first annual New Country 96.1 WJVC sponsored "Freedom Fest". The festival was the first to be produced by the emerging Country radio a new Country Music leader of the New York area.
The festival was considered a huge success according to all reports with a crowd of nearly 5,000 fans packing into the Long Island Ducks baseball stadium turned Country throw down. 'BadHorse' played the symbolic America's Song, "My Little Man", a tribute to soldiers and their families as the crowd began to tear up from the highly emotional tribute.
The band then played their latest single "It's All Good" and that brought the party to life. The band rocked a mid-set guitar run that included four guitars that played shorts of Van Halen, Kansas and other southern rock legends lead by the bands' talented lead guitarist Charlie Gilbert. The crowd went into a frenzy when the band started playing Van Halen's 'Jump'. Although the mid session southern rock was short and sweet the crowd quickly identified why the horses leading this wagon was "Badhorse".
As New York fans generally are know for, the enthusiastic crowd was found to be electric the entire night with some fans traveling to Long Island from surrounding states. 'BadHorse' greeted the fans after their performance with a two-hour meet and greet.
The meet and greet table was met with long lines of fans with one group of nearly thirty fans making the trip from Philadelphia. The group traveled together to meet 'BadHorse' and attend the festival to see the band play live. "These guys are bad a** and everything we heard about! Way more than we expected, watching these guys play is like wow... is all I can say, I am a fan for life now." stated Q. Mack, a BadHorse fan who made the weekend trip to New York from Philadelphia, PA with a group of friends.
'BadHorse', Due West, Sara Darling and other great emerging artists participated in the holiday country music festival. The overall report was that the event was consider by the fans to be a "Major Success" and all the artists were very appreciated by the crowd and the line-up made for a complete show.
All the music labels and artists attending the event praised New Country 96.1 FM Long Islands' new music leader. The new country station sponsored the event and was found to do an amazing job in the set up and timing of the event. The event flowed nicely which was highly noticeable by all attendee's primarily the fans.
For More information about Global Maximus Records & 'BadHorse'
Go to http://www.MUSICatGMR.com
For More Information about New Country 96.1 WJVC
Go to http://www.licountry.com
Media Contact: Kat Fain (832) 237-9820
###