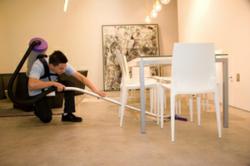 Studies have found air inside a building can be between two and five times as polluted as the air outside.
Phoenix, AZ (PRWEB) July 15, 2011
Green cleaning is not new to the office cleaning industry and has actually been increasing in numbers by those janitorial companies that embrace this culture and incorporate it into their daily cleaning practices. However one company, Commercial Janitorial, has taken it a step further. After being asked by more and more clients to devise a cleaning plan that takes into account Green Seal Certified (GSC) chemicals, micro-fiber cloths, and HEPA filtration vacuums, the company made the decision to incorporate green cleaning practices into its core business. However, traveling down the 100 percent green road is not always an option. Having a unique balance with traditional cleaning styles along with new green initiatives has elevated Commercial Janitorial in the marketplace from being a local Phoenix, Arizona company to having clients nationwide.
One such step the company has taken is introducing the use of color-coded micro-fiber cloths to differentiate the variety of surfaces found in a building. After all who wants to find the janitorial crew using the same rag to clean break-room countertops that were just used in cleaning the restrooms?
The company has found that education has often been critical in the implementation of green cleaning practices. Some of their clients still wanted the smell of "cleanliness" that often comes with using products with higher levels of volatile organic compounds (VOCs) as found in traditional cleaning products, but they are not as environmentally friendly as most GSC products that don't emit a heavy smell of disinfectant, so clients may feel as if the area isn't as clean as it should be.
However, once these clients were told that EPA studies have found air inside a building can be between two and five times as polluted as the air outside, coupled with the fact that most people spend a large percentage of our time indoors at work, school or even at home, the importance of indoor air quality being kept as high as possible is understood. In fact, for business owners green cleaning choices in office cleaning can even affect the company's financial bottom-line because employee sick time and lower productivity all have some basis in poor indoor environmental quality.
For school administrators, green cleaning choices can affect school productivity by decreasing childhood asthma and decreasing student absenteeism. According to Building Services Management, switching to green cleaning can improve attendance and student performance on standardized tests. Therefore school administrators interested in improving the schools performance and bottom line have looked to the company to improve outcomes in this way.
The Healthy Schools Campaign calculated that each 0.5 percent increase in attendance would result in an additional $300,000 in funding for some larger school districts. Building Services Management found that after a major renovation in which green cleaning was a key component, both attendance and scores on standardized tests increased. Therefore green cleaning, which minimizes exposure to harsh aggressive cleaners and VOC emissions, result in cleaner schools providing a better and healthier learning environment.
Green cleaning has also become very popular with multi-tenant properties handled by Commercial Janitorial. They know their profits are not directly influenced by the increased productivity of occupants. However their needs deal more with tenant retention, improved tenant satisfaction, reduced complaints, and marketing their properties to gain new tenants. Implementing a green cleaning program can help in all of these areas and add real value to a property. Green cleaning services help to maintain Class A status, lease space at a premium, and minimize tenant turnover by letting tenants know that the building is cleaned and maintained from a healthy approach.
Using these selling points across a variety of markets, and not using green cleaning as simply a buzzword that makes people feel good psychologically, being green has been a real choice that literally has made the company's clients feel better by keeping the indoor environment as healthful as possible. These green cleaning choices in cleaning products, equipment, systems and procedures, have affected the lives of those that spend time in the buildings the company services.
Going forward the company expects to introduce new green cleaning processes when they make sense and use the increased demand as consumers become more aware to expand its operations. Just recently the company started gaining the majority of its new clients from outside of the Western United States. "Phoenix office cleaning is where we started, but we green cleaning demand is nationwide. We've already begun to gain large customers in more established places such as the Denver office cleaning and Houston office cleaning markets," company President Ryan Stark stated.
About Commercial Janitorial
Founded in 1992 Phoenix, Arizona based Commercial Janitorial is a national leader in green office cleaning. For more information visit http://www.commercialjanitorial.com
###