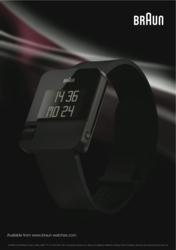 The BN10 is a result of a truly worldwide collaboration that has seen firsts in digital module, LCD and watch design technologies. We look forward to its launch in October
(PRWEB UK) 27 July 2011
Braun timepieces is launching the new BN10 developed and made in Germany. This remarkable timepiece has a completely new movement system. The BN10 uses a battery-operated digital module and the patented EasySkroll® v2.0 operating system. The BN10 has the best negative display ever made, achieving a degree of clarity that is superior to any other. The BN10 is water resistant to 3 bar and is available in a stainless steel or black version with the choice of a rubber strap as well as metal bracelets.
The BN10 uses the highly intuitive patented EasySkroll® operating system; no digital multifunction watch has ever been so easy to use. It is «plug and play» without the «plug». A single scrolling devise controls all the watch functions
"We are extremely excited about the launch of this truly special watch," says Braun Brand Manger, Andrew Tibber. "The BN10 is a result of a worldwide collaboration that has seen firsts in digital module, LCD and watch design technologies. We look forward to its launch in October"
Braun Timepieces also announces the lauch of their website http://www.braun-watches.com and http://www.braun-clocks.com. Consumers will be able to pre-order the BN10 digital matrix watch exclusively from this website as well as purchase the current classic and digital ranges of watches and clocks immediately.
The current range of Braun timepieces are characterized by their pure, highly functional and timeless design with no superfluous details: Every feature directly reflects a function. Rooted in over half a century of modern design at Braun, the core values of functionality, quality and aesthetics are reflected in all clocks and watches. The strength of clarity and simplicity of their design makes them a pleasure to use and to own.
Contact and Information
Website: http://www.braun-watches.com or http://www.braun-clocks.com
Phone: +44 208 208 1833
###