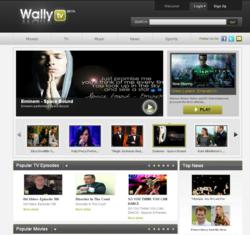 Wally.tv categorizes all videos into a variety of popular channels, sparing visitors from switching back and forth among websites.
(PRWEB) July 14, 2011
According to the U.S. Census Bureau, roughly 70% of households used the Internet in their homes as of 2009. Unquestionably, the Internet has become as much a part of our daily lives as the telephone and television. Recently, content delivery firm Limelight Networks shared that over 50% of Internet bandwidth consumption in the U.S. is due to online videos. How, what, and why people have chosen to watch videos online is an ever-growing dilemma that corporations are continuously trying to grasp. The absences of a viable solution for consumers lead to the development of Wally.tv.
Created by professionals, as well as fans, of the online video industry, Wally.tv is a service dedicated to exceed user needs and expectations. It is a culmination of all the essential elements consumers currently love about watching videos online combined with desired features currently also offered by popular platforms.
"The whole planning, development, and implementation of Wally.tv was done strictly with our potential users in mind. As fans and consumers of online videos, we tried to design a product that our friends and family would enjoy using. We spent months scouring the Internet using and testing every website offering online videos that we could possibly find; carefully taking notice of everything we liked, disliked, and wished was available. Armed with this information, and with the generous help of our family, friends, and staff, we truly believe that users will be amazed with the overall experience that Wally.tv offers," as stated by the entire Wally.tv Development Team.
Wally.tv provides users with a unique online video watching experience by offering a user-friendly interface, including fully customizable channels, that provides users' content customized to their preferences and the ability to share and discuss this information with their peers through the built-in social networking system; the site also integrates some of the popular features from Facebook, Twitter, and YouTube. The main goal is not to flood users with content, but to direct them towards what they would enjoy the most and connect them with others who share the same interests. At Wally.tv people receive more than videos, they are invited to be a part of a community who cares about what they watch.
"Users no longer have to search around the web or constantly switch back and forth between different sites. We seriously considered how users would enjoy Wally.tv as much as what they would enjoy. At the end of the day, it is not about what you saw, but the overall experience that you receive from sharing how you feel about what you saw with those who matter most to you. This isn't some crazy futuristic concept, it is something that people can make use of right now," said Timothy, CEO of Wally.tv.
About the Company
For more information, visit our homepage at: http://www.Wally.tv
Media Contact Information:
Contact Name: Andrew
mediasolution(at)wally(dot)tv
###