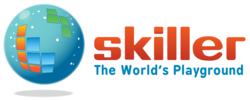 We found Skiller SDK to be extremely dynamic and with minimal effort were able to incorporate it with our leading titles - Craig Bucher, BUKsAPPs Studio CEO
Tel-Aviv, Israel (PRWEB) July 13, 2011
Skiller, a leading provider of social mobile gaming platforms, announced today that its Social SDK has been downloaded by hundreds of developers, many of which have already successfully integrated Skiller's Social SDK in their leading game titles.
By integrating the Skiller SDK, developers can now enable gamers to play with opponents from all over the world or compare their high scores in a fun and interesting tournaments, all in the same social environment. The Skiller platform allows gamers to play and fully interact with each other using a large variety of social features (such as messaging, leader-boards, personal profile, avatars and more).
"The SDK was built to be intuitive and to enable quick and comfortable integration for developers. We can actually see that many developers have adopted the Skiller platform as their Social and multiplayer platform for their games" said Michael Liberman, Skiller's CTO.
The Skiller platform, which enjoys tremendous user growth, with players from more than 200 countries, offers a unique connected gaming experience, a true social gaming experience over mobile phones.
"This rapid integration, demonstrates the simplicity of developing multi-player & social games with the Skiller social SDK" said Nir Orpaz, Skiller CEO "We welcome the new gamers who join Skiller's ever growing community."
Skiller's social SDK seeks to ease the integration process, which many developers are worried about. "We found Skiller SDK to be extremely dynamic and with minimal effort were able to incorporate it with our leading titles" Said Craig Bucher, BUKsAPPs Studio CEO. "The integration with Skiller SDK created an opportunity for new revenue streams such as in-game items, which in turn creates more traction and longer game retention for our titles on the Skiller network."
Developers interested in learning more about the Skiller SDK are invited to visit the developer's webpage.
About Skiller:
http://www.skiller-games.com
Skiller is a mobile social gaming platform, enabling anyone to play any game with everyone on every media from every location at any given time. We connect the world through games.
Developers webpage http://www.skiller-games.com/Developers.aspx
###