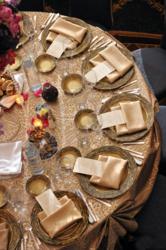 Our unique chargers are setting new table top fashion trends in the special events industry. They are lead-free, food safe and dishwasher safe - this is an industry breakthrough!
Chicago, IL (PRWEB) July 13, 2011
BBJ Linen, a leading national linen rental company serving the special events industry, unveiled its exclusive line of glass chargers setting a new trend in table top fashion.
"We are excited to add exquisite chargers available in an endless array of unique shapes, sizes, textures and bold colors to our premiere linen offering. As leaders in the industry for 30 years, we continue to innovate in order to bring new fashion concepts and designs to our customers," said Bill Pry, BBJ Owner and Vice President of Sales.
BBJ Linen's new line of chargers creates an industry breakthrough as the chargers are setting new table top fashion trends and are versatile, food safe and dishwasher safe. They can be used alone as chargers or to plate food for a unique presentation for starters, entrees or desserts. Event professionals from event planners and caterers to hotels and brides will have the opportunity to use these chargers to enhance their events. "When paired with our linen, our chargers transform ordinary events into extraordinary affairs," added Pry.
BBJ Linen has a long customer list which includes many Fortune 500 companies. In addition, BBJ products have graced many of the world's most impressive events including the Emmy Awards, Super Bowls, US Masters Tournaments, the Kentucky Derby and events at the White House to name a few. "BBJ Linen has been our vendor for over 10 years and stands out beyond other linen and charger suppliers. Their service is always customer friendly and professional and the quality of their products is unsurpassed. They offer a huge variety of colorful chargers that really compliment their linen. They are our choice for specialized, cutting edge products," said Angela Wheeler from Boca by Design, Boca Raton Resort & Club.
BBJ Linen is headquartered in Chicago, Illinois and has showrooms and sales representatives in 24 cities throughout the United States. To view linen or chargers available exclusively through BBJ, or to find a showroom near you, visit http://www.bbjlinen.com. BBJ's Customer Service Team is available 7 days a week and can be reached at 800-592-2414.
###