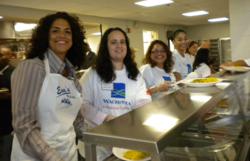 Paterson, NJ (PRWEB) July 14, 2011
Eva's Village, (http://www.evasvillage.org), a widely known New Jersey anti-poverty nonprofit benefiting the hungry, homeless and addicted, has introduced a program to make it easier for employees of area companies to help stem the "perfect storm" of declining donations during a critical time of increasing need.
In a survey conducted in February 2011, The Council on Foundations reported that 73 percent of the 216 non-profits surveyed reported an increase in the demand for services during 2010 while experiencing a 34 percent decline in funding. In fact, while Eva's Village is seeing some formerly faithful corporate donors reduce or eliminate funding, the soup kitchen program at Eva's Village has experienced more than a 20% increase since 2007 in the hungry and homeless coming for a hot mid-day meal. The program has grown to such an extent that the capacity is currently being expanded from 240 seats to 400.
Eva's Village provides a continuum of care and their kitchen, in many cases, acts as the gateway to other programs such as shelters, recovery services and more. Eva's Village is also expanding their Primary Care Clinic to meet the increasing demand for medical and dental care.
Sister Gloria Perez, Executive Director of Eva's Village, notes that the Eva's Village mission of feeding the hungry, sheltering the homeless, treating the addicted and providing medical care for the poor has never been determined by the rate of donations, but by the need. She says, "At Eva's Village, we have faith that helping the hungry and homeless with well-managed programs and fiscal responsibility will be rewarded with the necessary donations, and to date, that has proven to be true."
Donna Marie Fico, Chief Marketing Officer at Eva's Village also remains hopeful. She reports that during the economic downturn, the organization has been proactive with the "Bond, Boost, and Build" program, reaching out to New Jersey corporations to educate them on the plight of the most unfortunate among us and to make it easier for employees and their employers to get involved in the mission of Eva's Village. This highly successful team building effort offers tours of Eva's Village and volunteering in the Eva's Village soup kitchen program (Eva's Kitchen), serving a nutritious lunch to more than 350 homeless and working poor individuals daily. Ms. Fico describes the concept as the opportunity to BOND with one another by serving those in need, BOOST their mission of sharing and BUILD team spirit through service to others.
Corporate teams that have participated in the BOND, BOOST, and BUILD program at Eva's Village have commented:
"We were all amazed by what takes place at Eva's Village every day."
"Working in the kitchen certainly raises employees' awareness levels of socioeconomic issues, because Eva's is not only serving the homeless during that hour -- they're also offering meals to the working poor."
"It was truly a humbling experience which I will not forget. The staff is top notch and more importantly very caring people."
Ms. Fico says, "It is important during this time of economic uncertainty that we make sure our corporate neighbors understand the value this organization provides to their employees and to their communities." She reports that Eva's Village appeals to corporations as one of the most respected, progressive and effective anti-poverty organizations in the state of New Jersey, and that Eva's Village receives high marks for efficient management, receiving its fourth consecutive Four-Star rating by Charity Navigator indicating that Eva's Village "Exceeds industry standards and outperforms most charities in its Cause" (Charity Navigator).
Ms. Fico reports that the BOND, BOOST, and BUILD program at Eva's Village has provided many new volunteers for Eva's Village, and that participating employees have generously promoted the charity to their management, resulting in corporate support that has significantly helped to meet funding goals.
Founded by Msgr. Vincent E. Puma in 1982 as a response to the poor and homeless in Paterson, NJ, Eva's Village is a non-profit comprehensive social service organization. Through almost three decades of service, Eva's Village has established a unique record in facing community challenges and changing the lives of the hungry, homeless and addicted. It has grown from a simple soup kitchen to become the most respected anti-poverty program in New Jersey. It now includes fourteen integrated programs housed in numerous buildings spanning several city blocks in downtown Paterson.
For more information about the Eva's Village "Bond, Boost, and Build" team building effort for corporations, call or email Cyndi Roberson at 973.523.6220 ext. 226 or Cyndi.Roberson(at)evasvillage(dot)org. To find out more about Eva's Village go to http://www.evasvillage.org.
###