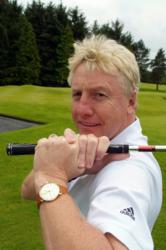 Frank is a big fan of Junghans watches due to the simple classic design.
Glasgow, London (PRWEB UK) 14 July 2011
Frank McAvennie Scottish International footballer, Celtic and West Ham legend, sky sports presenter and football pundit, has taken to the fairways to promote the launch of the Max Bill range in the Uk. A quality German watch brand, Junghans, is also known in watch making circles as "the German Watch" (DIE DEUTSCHE UHR). Frank is a big fan of junghans watches because of the simple, classic design.
Often portrayed in the media as a joker, Frank is deadly serious when it comes to what he wears on his wrist, and has become a fan of the Max Bill watch, which is still going strong since the 60s (just like Frank). He and Max bill have a lot in common. They both value "good form". Like most retired footballers, Frank has found a new sport, golf, and is very active on the pro-am circuit. He is also involved in promoting golf tournaments worldwide.
The Max Bill, by Junghans has a classic design with its clear,pure form.
Architect of time
As one of the most exceptional designers of the last century, the architect, painter, sculptor and product designer Max Bill, left behind a comprehensive collection of works, including one of the most fascinating watch collections of the last few decades. The long-term collaboration with Junghans began during the designer's Ulm-based period. As the grandson of a watch-maker, his passion for watches was inevitable. When Junghans commissioned Max Bill to design an everyday object, he worked with his students to develop a wall clock in his capacity as a lecturer at the Ulm School of Design (HfG). The logical face design of this circular kitchen clock from 1956, now known as the Max Bill wall clock, became a characteristic feature of the timepiece, and in 1961 was also incorporated into the design of the watches.
In all of his works, the artist strove to achieve clarity and harmonious proportions. Max Bill viewed the creation of objects, from simple household items, to his highly regarded works, as art and the 'design of an environment.' He particularly valued 'good form'. His endeavors to combine practical value with beauty are expressed in his legendary range watches which became modern design classics and are still produced today, virtually unchanged.
Featured Model: Max Bill Chronoscope model 027/7800
Features: Automatic mechanical movement J880.2 with display for date, chronoscope with second stop, luminous hands and appliques, stainless steel case or 10 micron gold-plated case Ø 40.0 mm, convex hard Plexi-glass with SICRALAN * coating, calfskin strap with stainless steel buckle, waterproof.
The numerous designs created by Max Bill, icons of purity, are now housed in the world's most important design museum – the Museum of Modern Art – and demonstrate solutions which still impress today, with their constructive clarity and precise proportions. The interplay of hours and minutes is rarely presented in a more simplistic and precise manner than with these watches. A portrait of Max Bill adorns the case floor of these watches.
About Junghans
The watch company Junghans was founded in Schramberg in 1861 and since then, has been a great success in the German watch industry. The company is based upon the unique Junghans philosophy, which is determined by a spirit of innovation and constant striving for precision. Even today this shapes the thought processes and actions of all the employees and is visible and tangible in every Junghans watch. The Junghans programme is based on the motto of combining traditional craftsmanship with the latest watch technologies and contemporary design. This makes every watch bearing the Junghans star something special, so that it is possible to say with pride: Junghans – the German watch.
###