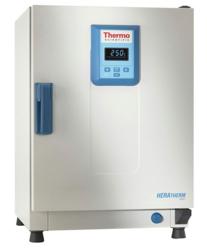 Vernon Hills, IL (PRWEB) July 12, 2011
Ensuring sample integrity is critical in laboratory and pharmaceutical research, microbiology, food technology, and many other scientific applications. With sample protection as its key driver, Thermo Scientific developed a new line of Heratherm Incubators and Gravity Convection Ovens:
Thermo Scientific Heratherm General Protocol Incubators are ideal for standard applications in pharmaceutical, research, medical, and food labs. They are designed to deliver top-quality temperature uniformity ranging from 5°C ambient to 75°C. Their unique airflow design, advanced microprocessor control, and automatic overtemperature alarm keep the internal environment optimal. An interior glass door enables sample viewing without disturbing the desired temperature. An intuitive user interface makes setting parameters easy. Choose from 2 to 6.3 cubic feet units.
Thermo Scientific Heratherm General Protocol Gravity Convection Ovens are designed for gentle heating and drying with minimal air turbulence. These ovens are a highly effective choice for precise heating applications. Their advanced microprocessor controls deliver detailed information on current temperature and set points. Set the temperature from 50 to 330°C and store the setting in memory while the oven is off. Visual overtemperature alarm and built-in safety backup maintain temperature control at 5°C above the set point if the primary control fails. A circuit breaker protects the oven from power surges. Thick insulation in walls and door maintains a safe exterior temperature and a silicone door gasket prevents heat loss. Low energy consumption contributes to their efficiency. Premium units also offer adjustable fan speed for application-related drying and a programmable controller for temperature ramps and dwells. Select from 2 to 6.4 cubic feet options.
Maximize efficiency and preserve sample integrity with these advanced chambers from Thermo Scientific. For more information, call 800-323-4340 or visit ColeParmer.com/8606.
Cole-Parmer has been a leading global source of laboratory and industrial fluid handling products, instrumentation, equipment, and supplies since 1955. Our product lines, including popular brand names such as Masterflex®, Oakton®, and more, are sold through company-owned customer channel outlets and a strong network of international dealers. We also feature an ISO-17025-accredited metrology lab for instrument calibration and repair. Cole-Parmer responds with excellence to customer needs, and offers application expertise and technical support. For more information, contact Cole-Parmer, 625 East Bunker Court, Vernon Hills, IL 60061. In the U.S., call 800-323-4340. International customers, call 847-549-7600. Visit us at http://www.coleparmer.com.
# # #