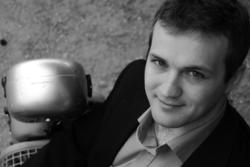 "First Place winners go on to become some of the most sought-after artists in the guitar world..." Galen Wixson, Executive Director, Guitar Foundation of America
Columbus, GA (PRWEB) July 14, 2011
Not only is Russian Vladimir Gorbach talented and charming, he's also a winner – in a big way. When an artist wins First Prize at the Guitar Foundation of America's (GFA) International Concert Artist Competition, it's a life-changing experience.
A Whole New World
Galen Wixson, Executive Director of the GFA, puts it simply: "First Place winners go on to become some of the most sought-after artists in the guitar world. The winner's international tour spans the globe, with over 50 concerts in one season. The prestige and opportunity that come with this title catapult the artist's career forward and virtually guarantee international acclaim."
A Leading Man
To date, Vladimir Gorbach has won first place in more than 10 international competitions abroad. His magnetic performances have inspired the title "the Liberace of the classical guitar."
He was born in 1981 in Novosibirsk, Russia and began guitar lessons at the age of 11. He studied with such luminaries as Manuel Barrueco, Pepe Romero, and David Russell.
His experience includes performing as a soloist and with orchestra in Russia, Germany, Austria, Portugal, Montenegro, Italy and the U.S. He currently resides in Cologne, Germany.
"…he literally subdued the audience with his musicality and extreme virtuosity"
Tenues de soiree, Nantes, France
About Guitar Foundation of America
Founded in 1973, the Guitar Foundation of America (GFA) is America's leading guitar organization. The GFA provides its members the combined advantages of a guitar society, a library, a publisher, a continuing educational resource, and an arts council. Today the GFA is the largest multinational guitar organization, providing serious guitarists worldwide a full range of educational, literary and performance resources and opportunities. The Guitar Foundation of America is a non-profit 501(c)(3) educational and literary organization and is devoted to furthering the knowledge of and interest in the guitar and its music.
About the GFA 2011 International Concert Artist Competition
This year the GFA held its annual Convention and International Competition at Columbus State University's Schwob School of Music in Columbus, Georgia from June 28 – July 3, hosted by Dr. Andrew Zohn. Events were held in the superb concert halls of the River Center for the Performing Arts. Guest artists included SoloDuo, Paul Galbraith, Alvaro Pierri, David Russell, David Starobin, and many more. Besides performances from these celebrated international guitarists, interactive guitar technique workshops, and scholarly lectures, the convention included a Vendor Fair, private lessons packages, and the opportunity to participate in the GFA Convention Guitar Orchestra.
The results of the International Concert Artist Competition are:
1st Place: Vladimir Gorbach (Russia)
2nd Place: Andras Csaki (Hungary)
3rd Place: Damien Lancelle (France)
4th Place: Jeremy Collins (USA)
For a YouTube sample of Mr. Gorbach's prize-winning performance, please go to: http://www.youtube.com/watch?v=XnaZRRaB_wg
For information regarding this press release, or to arrange for an interview with Vladimir Gorbach, please contact:
Galen Wixson, Executive Director
Guitar Foundation of America
(877) 570-1651
execdir(at)guitarfoundation(dot)org
###