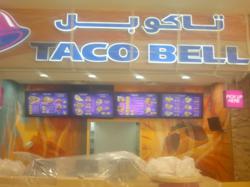 The newly installed digital menu boards provide a dynamic and interactive representation of the products offered at Taco Bell. This system allows us to capitalize on cutting-edge offerings not available with traditional print.
SHAAB, Kuwait (PRWEB) July 13, 2011
Taco Bell has launched a state-of-the-art digital menu board system at its restaurant in Shaab, Kuwait. There has been increasing adoption of digital signage in the region, and Taco Bell jumped at the chance to pioneer an installation of the new technology. Taco Bell turned to Scala Certified Partner Advanced Interactive Media Solutions (AIMS) to design an interactive digital network for the world-famous fast-food chain.
Taco Bell set out to create a network that would inform and entertain customers on four attention-grabbing 42-inch LCD screens installed on top of the ordering area of the outlet. Kout Food Group, an exclusive franchisee of Taco Bell in Kuwait, installed the system. Kout Food's IT personnel quickly and easily manage and update content, schedule rotating menus for specific time slots, and display special events and seasonal promotions using Scala Content Manager.
YUM International, which owns the Taco Bell brand, credits the digital installation with strategic advantages other than the new look and feel of the restaurant. Increased efficiency and reduced costs associated with printing and shipping of traditional menu boards, as well as a quick return on investment (ROI), are among the added benefits sited by YUM.
"The newly installed digital menu boards provide a dynamic and interactive representation of the products offered at Taco Bell. This system allows us to capitalize on cutting-edge offerings not available with traditional print," said Tarek S. Saeb, Marketing Manager of Taco Bell, Kuwait. "Most importantly, we are a customer service oriented organization, and the new menu boards will improve the customer experience."
Due to positive customer feedback and successful ROI, digital network installation is currently under way in new Taco Bell locations throughout Kuwait.
"Interactive digital signage solutions provide a truly engaging and meaningful platform for business enterprises to communicate with their target audiences, delivering even greater value proposition for their products and further boosting their revenue potential," said Ahmed El Ridi, CEO of Advanced Interactive Media Solutions, UAE. "We are now witnessing a growing number of companies realizing strong ROI with digital signage solutions, creating new and exciting possibilities for business growth and innovation. AIMS is therefore pleased to provide specialized services that help business organizations in the GCC take full advantage of the power of interactive digital signage solutions."
To read the full case study about the digital signage at Taco Bell in Kuwait, visit http://www.scala.com/studies/Taco_Bell_Kuwait.
About AIMS
Advanced Interactive Media Solutions (AIMS) is the GCC market leader in Interactive Digital Campaign creation and management, taking a client's message from concept, through design, deployment and monitoring. AIMS taps the power of interactive, temporary, standalone Digital Signage Solutions to deliver to advertisers and agencies in the Middle East the most compelling and effective tailor-made campaigns for their target audience. AIMS offers customers the unique proposition of immediate ROI and their full satisfaction by supplementing its advanced solution of content creation and management, email and social networking, interactive displays (Augmented Reality, 3D Projection Mapping), mobile applications (QR Coding, iPhone & Android applications), and telecom technologies (Bluetooth, 3G, wifi) with a state-of-the-art audience measurement solutions.
AIMS services include consultancy on Digital Campaigns, concept development, location assessment, location provisioning (malls, cinemas, public areas, etc.), Digital Network implementation, Digital Content creation, Anonymous Audience Measurement, and distribution, installation, maintenance and monitoring.
AIMS is a part of a group of media companies that also include SSS (Specialized Software Services) that has offices in Dubai, Abu Dhabi and partners across the GCC. AIMS & SSS offer superior interactive marketing solutions for managing the implementation of Digital Signage, with a cross-industry platform that is exponentially growing, especially in retail industries, to help local and international retailers deliver their message to their most desirable audience.
About Kout Food Group
Kout Food Group, a subsidiary of Al Homaizi Food Stuff Co., was established in 1998 as a Kuwaiti Closed Shareholding Company and is now present across the G.C.C and the United Kingdom. The company provides a full range of hospitality, catering and restaurant management services. Kout Food Group is the franchisee of Taco Bell, Burger King, Pizza Hut, Applebee's, Kababji and Burj Al Hamaam in Kuwait and has also developed innovative locally inspired concepts such as Scoop a Cone and Ayyame as well as a manufacturing facility, Fresh Productions.
About Scala
Driving more than 500,000 screens worldwide, Scala is a leading global provider of digital signage and advertising management solutions. Scala is the world's first connected signage company, offering the leading platforms for content creation, management and distribution in digital signage networks and the first unified platform for advertising management of both traditional and digital signage networks. The company's digital signage customers include Rabobank, IKEA, Burger King, T-Mobile, Virgin MegaStore, Warner Brothers, The Life Channel, Rikstoto, Repsol, NorgesGruppen, Audi, ECE Flatmedia, Kaufhof (Metro Group) and thousands more. Advertising management customers include CBS Outdoor, Clear Channel Outdoor and Newad, among others. Scala is headquartered near Philadelphia, USA, and has subsidiaries in Canada, The Netherlands, France, Norway, Germany, Japan and India, as well as more than 500 partners in more than 90 countries. More information is available at http://www.scala.com.
###