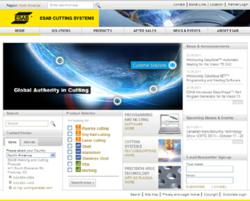 Florence, SC (PRWEB) July 15, 2011
ESAB Cutting Systems has launched a new web site at a new web address to showcase its products and services. Now located at http://www.esab-cutting.com, the site highlights customer solutions for a wide range of industry segments, includes detailed information on ESAB's new product range, and features a host of process tools and after-sales products and services.
Features of the new site include:

Product information pages with photo galleries for many products
Brochures, fact sheets, and price sheets available for download directly from each product page
News announcements and new product releases
Upcoming trade shows & events where ESAB Cutting Systems will be exhibiting
A product selector tool
A contact finder to quickly look up sales and service offices worldwide
This change allows ESAB Cutting Systems in North America to join the family of ESAB Cutting Systems Global Web Sites, with access to a common web content management system for more up-to-date content and common global products.
ESAB Welding & Cutting Products is one of the world's largest and most experienced manufacturers of welding and cutting equipment and welding filler metals. Recognized as the technological leader in the industry, ESAB is committed to providing cost effective solutions for its customers. For more information on cutting system solutions, visit http://www.esab-cutting.com or call 1-800-ESAB-123.
###