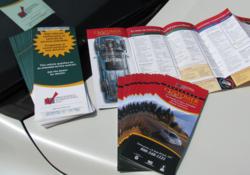 Many of our customers speak only Spanish, so Preferred's new brochure will be a big help to everyone.
Austin, TX (PRWEB) July 13, 2011
As a major provider of extended service contracts for pre-owned vehicles in 16 states from Texas to New Jersey to Michigan, Preferred Warranties' customers straddle the demographic spectrum. Not surprisingly, the company has a substantial number of Spanish-speaking customers. What was surprising was Preferred's decision to deliver customer service to Hispanic communities ahead of its efforts to market to them.
"To my knowledge, Preferred Warranties was the first provider of aftermarket vehicle protection plans to make a focused effort on hiring bilingual claims reps," says Greg Reyes, who in 2008 joined the company's national claims department in central Pennsylvania as one of PWI's full-time bilingual customer service reps. "The management team has long been committed to recruiting, training and maintaining the best bilingual staff in the business."
Preferred's marketing to the Hispanic community is now in synch with their industry-leading customer service. The company has just announced that a Spanish version of their Customer Select brochure, which outlines six different coverage options, is now being distributed. Preferred dealers can also take advantage of Spanish point-of-sale material in the form of "Este vehiculo" window stickers, which advertise that the vehicle qualifies for a service contract.
Dealerships are pleased. "In the eight years that I've been working with Preferred, I've been able to tell my customers with 100% confidence that Preferred Warranties is an upstanding company that pays claims fast and with no hassles," says Teresa Arias of San Fernando Motors in Austin, Texas. "Many of our customers speak only Spanish, so Preferred's new brochure will be a big help to everyone. Customers will get to see the details for themselves rather than our having to explain every point."
"Preferred wasn't the first with Spanish language brochures, but the company has been providing bilingual claims handling for their Spanish-speaking customers since 2004," summarizes Colleen Jones, claims manager at Preferred Warranties. "Others had the brochures for a while, just not the service to back it up."
Since its founding in 1992, Preferred Warranties has been widely regarded as a quality leader in extended service contracts for used car dealerships. In 1998, it was ranked #179 on the Inc. 500 list of fastest growing U.S. companies and earned a Torch Award for Marketplace Ethics from the Better Business Bureau. The company continues to be rated A+ by the BBB. Today, Preferred Warranties are available through dealerships in 16 states: Alabama, Delaware, Georgia, Indiana, Kentucky, Maryland, Michigan, New Jersey, North Carolina, Ohio, Pennsylvania, South Carolina, Tennessee, Texas, Virginia and West Virginia. More consumer and dealership information is available on their website, http://www.warrantys.com.
# # #