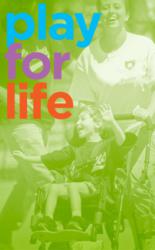 Participants can meet a real mix of experts on play and inclusion from around the country.
Delano, MN (PRWEB) July 13, 2011
Play is beneficial for all of us; it encourages learning, fitness and true happiness. Research shows that play is a key element of development and health for individuals of all ages and abilities. Playing is not just a "children-only" activity. In a world of over-scheduled lives, it is important that everyone—children and adults of all abilities—take time to explore and play.
In an effort to address inclusive play for all ages, Landscape Structures Inc., a Delano, Minn.-based commercial playground equipment manufacturer, is once again sponsoring the Play for Life Symposium on Sept. 22-23 in Minneapolis. The event, a Kanics Inclusive Design Services, LLC symposium, will feature thought leaders on inclusion, inclusive play and play across the lifespan.
"The Inclusive Play Symposium is a unique event where participants can meet a real mix of experts on play and inclusion from around the country," said Ingrid M. Kanics, founder of the Play for Life Symposium. "They would have to attend half a dozen conferences to meet all of these speakers."
The Symposium will educate individuals on the importance of inclusive play, and attendees will be able to earn continuing education units in several different disciplines. From an engaging workshop that helps attendees transform their accessible play spaces into truly inclusive playgrounds led by Marnie Norris, director of programs at Shane's Inspiration; to the interactive session about design practices that truly engage children in the environment with Carol A. Krawczyk, ASLA; and an exploratory discussion about play in adult life from Hedda Sharapan, director of early childhood initiatives at The Fred Rogers Company; participants in the 2011 Play for Life Symposium are sure to reignite their passion for play.
To get more details, registration and accommodations information about the Play for Life Symposium, visit playlsi.com/2011-Symposium.
In addition to sponsoring the third annual Play for Life Symposium, Landscape Structures is the leader in providing inclusive playground products. The company strives to achieve a higher level of inclusive play by focusing on sensory-stimulating activity in addition to accessibility, and age and developmental appropriateness. By incorporating all three concepts, children of all abilities will come together to play as equals.
Since 1971, Landscape Structures Inc. has been the leading commercial playground equipment manufacturer in the world. Our employee-owned company is committed to making the world a better place with active children thriving in leading communities year after year, generation after generation. We encourage outdoor play that develops healthy kids and a sustainable world by creating innovative products that are environmentally responsible. Our mission from day one has been to enhance children's lives by fostering and creating inspiring play experiences while honoring the environment.
###