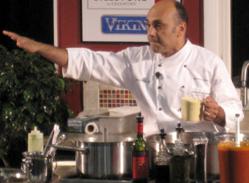 My ultimate goal from this contest is to reignite people's passion for cooking...
Milwaukee, WI (PRWEB) July 13, 2011
On Saturday, July 16, 2011 at Noon Chef Feker is welcoming the public to his where they can join him in tasting and judging these recipes. A panel of local celebrity judges shall evaluate each recipe based upon a culinary criteria of creativity, flavor, originality and presentation. Judges include Chef Michael Feker himself, joined by Cassandra McShepard, Nicole Koglin and Tony Clark from FOX 6's Real Milwaukee. Local residence are encouraged to join the live audience and cheer on their favorite recipe.
The Grand Prize winner will be announced live at the close of the event. This winning recipe shall then be featured on Feker's dinner menu at his award-winning restaurant, IL MITO Enoteca, for one year, with net proceeds going to the winner's charity of choice. Finalists will be cooking in hopes of supporting the following charities: Kathy Wacker for Shriners Hospital for Children; Vicki Zirbel for Wisconsin Akita Rescue (Large Dog Rescue); Eileen Stefanski for Crohn's & Colitis Foundation of America; Lindsay Wikel for the Wisconsin Humane Society.
"My ultimate goal from this contest is to reignite people's passion for cooking and to make them aware of the benefits of fresh, homemade meals. Obesity and related illnesses plague millions of Americans of all ages… if just one family is touched and pushed to make positive changes in what and how they eat, then I have succeeded in my mission," explains Feker.
About IL MITO
Chef Feker is a culinary innovator who has made it his mission to get people back to the dinner table; from his restaurant, IL MITO Enoteca, to his state-of-the-art cooking school, CMF's School of Culinary Magic where he will hosts monthly gourmet beer and wine tastings, hands-on and demonstrational luncheons, as well as private lessons for individuals or couples.
Keep up to date on Twitter and Facebook at: http://twitter.com/cheffeker and http://www.facebook.com/pages/Il-Mito-Enoteca/114204781943252
Or download your Chef-on-the-Go with Chef Feker's Exclusive APP: http://itunes.apple.com/us/app/chef-michael-feker-il-mito/id375271800?mt=8
Learn Live with Chef Feker on YouTube: http://www.youtube.com/user/ChefMichaelFeker
IL MITO is located in Wauwatosa at 6913 W. North Avenue. Lunch is served Tuesday through Saturday 11:00am to 2:00pm; Sunday Brunch with Bloody Mary Bar 10:00am to 2:00pm; Dinner: Tuesday through Thursday 5:00 to10:00pm, Friday and Saturday 5:00pm to 11:00pm and Sunday 5:00pm to 9:00pm. Reservations can be made online at: http://www.ilmito.com or by calling 414-443-1414.
###