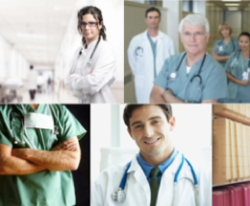 News, thoughts, and commentary about hospital physicians, healthcare, and the law.
Pompano Beach, FL (PRWEB) July 12, 2011
"All subject matter within this vehicle is tailored to physicians, hospital administrators, and healthcare providers," said James E. McLean, MD, President of Hospital TeamCare West, a leading provider of outsourced physician services. "Its purpose is to provide a platform, in which healthcare providers are able to discuss, learn, read, and discover, all matters pertaining to hospital physicians and their related issues.
"The next four years will certainly prove telling, as the numerous health-related provisions take effect; it will likely be quite challenging to restore the already-imbalanced healthcare system, without additional resources and/or legislation. Social media is an excellent means for hospital physicians, and the like, to learn, educate, and voice opinions, in regards to all health and medical related matters."
The New England Journal of Medicine, last year, reported that, in a "Manhattan Research survey, (published nearly three years ago), studies showed that more than half of the country's hospital physicians utilized social media networks. With today's steady rise in social media, paired with health care reform issues, such platforms allow physicians readily available information, as well as, an easily accessible means of communication with each other, and patients. Facebook, LinkedIn, and Twitter, are a few top social networking websites, which also are growing in usage within the healthcare industry."
"From health records advancing electronically, to hospitals delivering prescriptions to pharmacies digitally, hospitalists almost have to step in to the social media world, just to keep up," Dr. McLean said. "Advances in medicine are occurring at extraordinary rates."
Visit HospitalPhysicians.com to read our posts, reply with your comments, and offer any topic requests or suggestions.
About Hospital TeamCare
Hospital TeamCare is a leading provider of quality hospital –based outsourced physician services. We offer physician outsourcing in emergency medicine, anesthesia, hospital medicine, pediatrics, radiology, and urgent care medicine. For more information about Hospital TeamCare, our hospital services, or healthcare solutions, visit TeamCare.com or call 800/616.8236
###