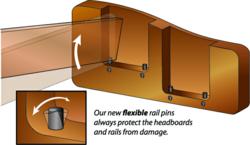 The Flexible Rail Pin protects the marimba's headboards and frames.
Arcata, CA (PRWEB) July 14, 2011
What's the most fragile part of a marimba, any marimba? It's the way the rails are connected to the frame. Historically the junction of the rails and headboard has been a point where damage can happen when improperly assembling or transporting marimbas. The innovation of the Flexible Rail Pin virtually eliminates this concern. In addition to increasing the durability of your marimbas, the Flexible Rail Pin further isolates and prevents the transfer of keyboard or rail vibrations to the frame.
It's the kind of ground-breaking that makes Marimba One the leader in the industry.
You can get the rail pin upgrade kit directly from us or through our participating dealers.
###