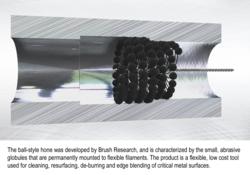 Los Angeles, CA (PRWEB) July 19, 2011
The flexible Flex-Hone® from Los Angeles-based Brush Research Manufacturing deglazes cast iron, aluminum and even Nikasil cylinder liner walls in preparation for new piston rings for motorcycles, high performance automobiles or even oceangoing vessels.
The Flex-Hone from Brush Research Manufacturing (Los Angeles, CA) is a resilient, flexible, honing tool with a soft cutting action. The abrasive globules are bonded to the ends of flexible nylon filaments. Each has independent suspension that assures the cylinder hone to be self-centering, self-aligning to the bore and self-compensating for wear.
The Flex-Hone can be used in any rotating spindle, including hand drills making it an ideal tool for secondary finishing, custom field finishing or even DIY applications. Only a few passes up and down inside a cylinder liner accomplishes thorough deglazing.
Deglazing is a process by which the surface of an engine cylinder is roughened to create friction between the moving parts and allow engine oil to grip the sides of the cylinder.
In a gasoline or diesel engine, the pistons ride up and down within the engine maintaining a tight seal via the piston rings. Over time, the constant rubbing of the rings against the cylinder wall can polish it to a very smooth finish that can cause lubricating oil to not adhere properly or the rings to "skate" over the polished surface.
Deglazing with a cylinder hone creates a roughly 45 degree angle crosshatching of tiny grooves in the cylinder wall to eliminate skating. The crosshatch pattern created by the honing tool is also important for ring wear, ring rotation, and even piston groove wear.
Another important capability of the cylinder hone is its plateau finishing capabilities. The purpose of plateauing is to remove loose, cut, torn and folded material within the cylinder, create valleys and remove peaks that would otherwise damage rings or seals.
The result is that more lubricant is retained, improving engine startup and performance.
Available in sizes ranging from very small diameter hones (4mm) to those up to 36 inches or more in diameter (a size appropriate for large engine cylinder bores), these tools can be custom designed by Brush Research to the size, shape and abrasive grit to fit any application's needs.
Selection of abrasive and grit type varies depending on the application, cylinder and ring material.
Picking the correct abrasive type for the Flex-Hone Tool is relatively straightforward. Silicon Carbide is used for all cast iron cylinders and liners. For a Nikasil liner, or in any aluminum bore application, an Aluminum Oxide abrasive is appropriate.
The most typical grits for deglazing applications are 180 and 240 grit, but the range used is 120 all the way up to 400. Some extreme performance ring manufacturers even recommend 800 or Levigated abrasives.
Corrosion, rust, or oxidation will probably skew grit selection a bit coarser. For high performance engines with multiple tear downs and surface finishes per year or very thin rings use a finer grit cylinder hone.
###