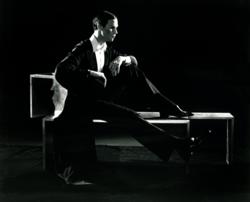 We leave, not enraged, not enraptured. A voice heard in the mind—Andy Warhol's—when asked what he thought of the 1970s: "I like them because they're so empty."
Los Angeles, CA (PRWEB) July 12, 2011
Some Serious Business (SSB) is pleased to announce that it has received a grant from the Getty Foundation to produce a reinvention of Robert Wilson's I WAS SITTING ON MY PATIO THIS GUY APPEARED I THOUGHT I WAS HALLUCINATING. As in the original 1977 production, the performance will be co-directed by Wilson and renowned choreographer Lucinda Childs and premieres January 26, 2012 at the Roy and Edna Disney/CalArts Theater as part of Pacific Standard Time: Art in L.A. 1945–1980. This intimate chamber piece will elucidate a side of Wilson's work that has been rarely seen and link it solidly with the art of our time.
From 1977 to 1980 Some Serious Business produced more than fifty performances throughout Los Angeles, the most ambitious of which was a preview of PATI0 co-directed and performed by Wilson and Childs. Originally presented by SSB for one night only on April 19, 1977 at the Wilshire Ebell Theater, it was Wilson's first performance in Los Angeles and one of the earliest performances in which he explored language and wrote the text. The world premiere of PATIO that also featured music by Alan Lloyd was produced by Richard Barr in May 1977 at the Cherry Lane Theater in New York.
The performance in L.A. was an "event." In the theater that night were a who's who of creators ranging from Bob Wilhite and Guy de Cointet to Don Bachardy and Christopher Isherwood. Also there was Los Angeles Times theater critic Dan Sullivan 1977 who "chronicled" the event:
"Big crowd outside waiting to pick up tickets. Robert Wilson is the name in New York avant-garde theater just now and he has never before done a piece in Los Angeles. Kenneth Tynan is here, Gordon Davidson and Ed Parone from the Taper, Ron Sossie from the Odyssey. The line takes forever."
Each act of PATIO focuses on the actions of a single character: a man in the first, and a woman in the second. In identical settings, the two performers enact their interpretations of the same text that incorporates more than one hundred short story fragments:
"You're beginning to seem a little strange to me . . . Don't shoot . . . You're here for ulterior motives . . the reindeer are getting restless . . . I don't even know what to say to you any more. . . Rosemary stop swallowing air."
This sophisticated Minimalist piece is intensely aural and visual: In 1977, Wilson used piano and clavichord music, a ringing telephone, the sound of waves and gunshots, and black-and-white film footage to create PATIO's dynamic atmosphere. The last paragraph of critic Sullivan's poetic exposition says it all:
"We leave, not enraged, not enraptured. A voice heard in the mind—Andy Warhol's—when asked what he thought of the 1970s: 'I like them because they're so empty.'"
With this work conceived at the height of the "conceptual 70s" and informed by the boundary-shattering collaborations that characterized that period, Wilson was in the forefront of a radical new approach to performance—making works that were visual instead of verbal, architectural instead of representational, extravagant instead of modest, perceptual instead of emotional, theatrical instead of literary.
"It is quite clear that the subject of this play is a nervous breakdown. . . . "Hallucinating" is different from previous Wilsonian theater, which has always emphasized performance over script and exterior experience over interior states. Those familiar with his earlier works will be surprised." —Richard Kostelanetz, New York Times, May 8, 1977
PATIO will be reinvented by Wilson, Childs and an innovative team of collaborators during a workshop at The Watermill Center in August 2011. Watermill is a laboratory for performance founded by Robert Wilson as a haven for the next generations of artists, supporting their work among a network of international institutions and venues that embrace new interdisciplinary approaches. A documentary film about the re-creation of the piece by a group of talented young filmmakers is also planned. The producers of PATIO are SSB co-founders Susan Martin and Nancy Drew, and Julia Carnahan.
"SSB is honored to be a part of the Getty's important initiative looking back at the lost art history of Los Angeles and looks to the future with this new production," says SSB Director Susan Martin. "We anticipate that PATIO will challenge and inspire new audiences as it did that one special evening more than three decades ago. "
Support for I WAS SITTING ON MY PATIO THIS GUY APPEARED I THOUGHT I WAS HALLUCINATING has been generously provided by the Dr. Gerald J. & Dorothy R. Friedman Foundation and the Getty Foundation.
About Some Serious Business
Some Serious Business (SSB) is a nonprofit organization founded in 1976 by Nancy Drew, Elizabeth Freeman, and Susan Martin in response to an extraordinary diversity and growth in artistic production and collaborations. Between 1977 and 1980 Some Serious Business produced more than fifty performance events, video screenings, installations, new music, dance, punk concerts, photography exhibitions, and combinations of the above that defy easy categorization.
An "alternative space" without a permanent location, SSB used the City of Los Angeles itself as a resource, collaborating with established art organizations but also presenting performances on Venice Beach, in parking lots, within hotel rooms, deserted skyscrapers and derelict buildings, on broadcast television, even on Amtrak trains. It was a time that called for unique solutions to the particular requirements of creators, and resources for these groundbreaking artists were particularly limited on the West Coast. SSB instigated support systems and rounded up whatever was needed for pioneering artistic events by learning what it could from conventional museum, entertainment, and media practices—and then inventing the rest.
SSB was a producer of firsts:
Although based in L.A., SSB was fully engaged in an international conversation with wide-ranging creators, many of them at the earliest stages of their careers. From a full-scale Orgies Mysteries Theatre production by Viennese Actionist Hermann Nitsch deep in the heart of Venice to John Cage's Empty Words at the Los Angeles County Museum of Art, from Laurie Anderson's first performance in L.A. at Otis Art Institute to the first exhibition of work by Jenny Holzer and Louise Lawler, and from punk rock concerts on Hope Street to a performance by the Philip Glass Ensemble at the Roxy on the Sunset Strip, SSB offered L.A. artists and audiences peak artistic experiences.
Based on the principle that the artist always comes first, the organization was fundamentally collaborative, non-bureaucratic, and a vehicle to connect people and art: "We're a telephone," the founders were fond of saying. "A conduit of energy. What do you need? We'll find it!" It was just that easy.
That "can do" spirit and sense of fun—and the clearly defined intention to present L.A. audiences with one magical moment—were the driving forces of the organization then and continue to be the motivation for SSB's efforts today.
About Robert Wilson
The New York Times described Robert Wilson as "a towering figure in the world of experimental theater." Wilson, born in 1941 in Waco Texas, is among the world's foremost theater and visual artists. His works for the stage unconventionally integrate a wide variety of artistic media, including dance, movement, lighting, sculpture, music, and text. His images are aesthetically striking and emotionally charged, and his productions have earned the acclaim of audiences and critics worldwide.
Wilson's awards and honors include two Guggenheim Fellowship awards ('71 and '80), the nomination for the Pulitzer Prize in Drama ('86), the Golden Lion for sculpture from the Venice Biennale ('93), the Dorothy and Lillian Gish Prize for lifetime achievement ('96), the Premio Europa award from Taormina Arte ('97), election to the American Academy of Arts and Letters ('00), and Commandeur des arts et des lettres ('02) among others.
Together with composer Philip Glass, he created the seminal opera Einstein on the Beach. With productions such as Deafman Glance, KA MOUTain and GUARDenia Terrace, Life and Times of Sigmund Freud, CIVIL warS, Death Destruction & Detroit or a Letter for Queen Victoria he redefined and expanded theater. Wilson's collaborators include diverse writers and musicians such as Susan Sontag, Lou Reed, Heiner Müller, Jessye Norman, David Byrne, Tom Waits, and Rufus Wainwright. Wilson has also left his imprint on masterworks such as The Magic Flute, Wagner's Ring Cycle, Madama Butterfly, Dreamplay, Per Gynt, The Threepenny Opera, Shakesepeare's Sonnets and Krapp's Last Tape.
About Lucinda Childs
Lucinda Childs is one of America's most important modern choreographers. Of her work, which is often described as conceptual dance, she has said, "My dances are an intense experience, of intense looking and listening." Childs was born in New York City in 1940. In her second year at Sarah Lawrence College, she took a class with visiting professor Merce Cunningham. After she completed her degree, she went on to study at the Cunningham Studio. There she met Yvonne Rainer, who went on to co-found (with Steve Paxton) the influential Judson Dance Theater and invited Childs to be one of Judson's original company members.
After she formed her own company in 1973, Childs collaborated with Robert Wilson and Philip Glass on the opera Einstein on the Beach, participating as leading performer in the original 1976 production. It was during rehearsals for Einstein that Childs and Glass came up with the original idea for DANCE, choreographed in 1979 with music by Glass and film/decor by Sol LeWitt. For subsequent productions of Einstein on the Beach, she became lead performer and choreographer in both the 1984 and 1992 revivals. Childs will choreograph the Lucinda Childs Dance Company in the upcoming remount of Einstein on the Beach, scheduled to premiere in 2012, part of a series of international events celebrating the composer's 75th birthday.
Along with Glass, LeWitt and Wilson, Childs has worked with such artists, composers, and directors as John Adams, Frank Gehry, Henryk Górecki, Robert Mapplethorpe, Terry Riley, and Iaanis Xenakis. Childs received a Guggenheim Fellowship in 1979, the year she created Dance. She is also the recipient of the NEA/NEFA American Masterpiece Award, and in 2004 she was elevated from the rank of Officer to Commander in France's Order of Arts and Letters. Most recently she has choreographed Tempo Vicino with music by John Adams for the Ballet National of Marseille, which premiered in May 2009.
About Pacific Standard Time: Art in L.A. 1945–1980
Pacific Standard Time is a collaboration of more than sixty cultural institutions across Southern California, coming together for six months beginning in October 2011 to tell the story of the birth of the Los Angeles art scene and how it became a major new force in the art world. Each institution will make its own contribution to this grand-scale story of artistic innovation and social change told through a multitude of simultaneous exhibitions and programs. Exploring and celebrating the significance of the crucial post–World War II years on through the tumultuous period of the 1960s and 1970s, Pacific Standard Time encompasses developments from L.A. Pop to postminimalism; from modernist architecture and design to multimedia installations; from the films of the African American L.A. Rebellion to the feminist activities of the Woman's Building; from ceramics to Chicano performance art; and from Japanese American design to the pioneering work of artists' collectives.
Initiated through $10 million in grants from the Getty Foundation, Pacific Standard Time involves cultural institutions of every size and character across Southern California, from greater Los Angeles to San Diego and Santa Barbara to Palm Springs.
High Resolution images available upon request. For further information, please contact:
Susan Martin / susan(at)martinmpr(dot)com / 505 685 4664 (o) or 310 975 9970 (m)
Norma Kelly / norma(at)martinmpr(dot)com / 818 509 0575 (o) or 818 395 1342 (m)
# # #