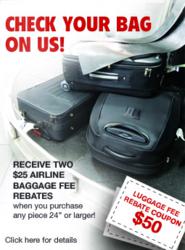 Denver, CO (PRWEB) July 13, 2011
Colorado Bag'n Baggage group of stores will offer a $50 rebate incentive for checked luggage fees starting July 18th. When a consumer purchases a case that is 24" or larger which is valued at $250 or more, the consumer will receive a rebate certificate that can be redeemed for up to $50 in checked luggage fees.
The Department of Transportation's Bureau of Transportation Statistics (BTS) has reported that U.S. airlines collected almost $5.7 billion from baggage fees and reservation change fees in 2010. A majority of the airlines charge passengers up to $25 each way to check a piece of luggage which is larger than a carry-on size. "Travel is being redefined everyday with changing policies and fees. Our hope is to help save our customers some money during this busy summer travel season as well as keeping consumers educated and informed on how to travel in today's climate," said Rachael Stiedemann, marketing director of Colorado Bag'n Baggage.
The promotion will run until the end of August or while supplies last. The offer is valid at all twenty-five stores that are part of the Colorado Bag'n Baggage group of stores as well as online at http://www.coloradobagnbaggage.com. More details are available online or at one of the store locations.
About Colorado Bag'n Baggage
Colorado Bag'n Baggage is a family of stores across nine states which include Colorado Baggage, Houston Trunk Factory and Bag'n Baggage stores. The stores feature fine luggage and leather goods from brands such as TUMI, Rimowa, Antler, Victorinox, Briggs and Riley, Eagle Creek and more. For more information, visit http://www.coloradobagnbaggage.com. Colorado Bag'n Baggage is headquartered in Denver, Colorado.
###