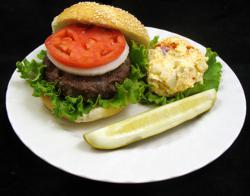 Many people associate Buffalo with chicken wings, but don't realize the rich ethnic heritage and culture of this vicinity
Buffalo, NY (PRWEB) July 14, 2011
Christmas Central, a leading source of holiday merchandise and home décor, today announced the launch of its Gourmet Food and Grocery menu category. Popular regional fare from Dave's Olde World Market, a Buffalo area business which shares a parent company with ChristmasCentral.com, is now available for purchase on the web store.
Christmas Central's current list of specialty items features quality made-to-order Polish and Italian sausages, a variety of gourmet burgers, and peameal Canadian bacon roasts. Buffalonians have enjoyed such culinary favorites since butchers opened shop at the city's historic Broadway Market in the late 1800's. Today, with over 30 years of experience, the Olde World Market chef prepares these meats daily, following time-honored family recipes.
All foods offered on Christmas Central represent area tradition. "Many people associate Buffalo with chicken wings, but don't realize the rich ethnic heritage and culture of this vicinity," said Nathan Gordon, CIO of Christmas Central. "We're proud to supply our specialty foods beyond Western New York."
Other products favored by the locals and included on the website are Sahlen's hotdogs, Byler's relishes and sauces, Weber's mustards, Chiavetta's barbeque marinade, world famous Anchor Bar wing sauce, Nowinski pirogies, Fiegel Apiaries' honey, Crystal Beach candy and soda, and pasta sauces from celebrated Buffalo restaurants. The company plans to add gourmet cakes to their online food catalog soon.
Christmas Central ships perishable products frozen, with ice packs, in custom designed insulated foam coolers. Once shipped, they arrive within two days to ensure food safety.
About ChristmasCentral.com
ChristmasCentral.com is a division of Gordon Companies, Inc., a family owned and operated business founded in 1977. As one of the largest online retailers of Christmas merchandise and home décor, ChristmasCentral.com offers over 30,000 unique products, serving the decorating needs of individual shoppers, professional decorators, small and large businesses, and television studios. Their colorful Christmas trees have been featured on NBC's "The Today Show."
###