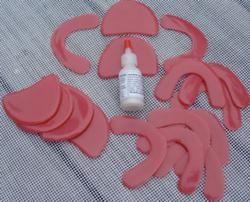 "fast shipping greatest product ever made!"
Toms River, NJ (PRWEB) July 14, 2011
The new Weber Denture Liner kit is designed to answer questions often asked by denture wearers such as: "How can I make my loose denture fit better and give me more comfort and no more sores or pain?" The obvious answer to these questions is the use of this new always-soft Weber Denture Liner. All loose dentures (false teeth) can be salvaged, and made to fit better with this new (Patent Pending) denture liner invention. The Weber Denture Liner kit is now available in a handy "do-it-yourself-at-home" denture re-lining kit that requires no mixing. In short, these low cost Weber Denture Liners give new life to all loose and uncomfortable dentures. The Liners fill the space (gap) between the denture and the gums, and are always soft, and flexible at all temperatures. Liners can be easily molded and shaped with fingers to give all dentures (uppers & lowers) a long lasting, near perfect fit. Use of Weber Denture Liners allows false teeth to be worn comfortably all day & all night with good support, increased stability, reliable retention and - no more sore spots or pain.
Originals By Weber, Terry L. Weber, owner, announces immediate availability of their new, Patent Pending, long lasting Weber Denture Liners in a handy do-it-yourself kit, The always soft Liner material in this kit is a flexible, translucent, odorless, putty-like compound designed to fill the gaps created by the slow but constant natural shrinkage of the gums and jawbones after natural teeth are removed. The Weber Liner provides a denture wearer with the three basic essentials needed for comfortable dentures: (1) support, (2) stability and (3) reliable retention.
Most new denture wearers are aware of the fact that, after a few months of use, their once comfortable dentures (false teeth) lose their original stability. This happens because there is slow shrinkage of both gums and jawbones after natural teeth are removed. This shrinkage gradually causes the rigid plastic denture to become loose. Then, when chewing food, the movement of the denture where it rubs against the gums can cause raw and very painful sores to develop on the gums. Using this new, unique and always soft Weber Denture Liner can eliminate this very common sore mouth problem of denture wearers. It is the best and most reliable way to provide a space-filling comfortable always-soft cushion between the hard acrylic plastic of the denture and the soft and tender flesh of the gums.
The Weber Denture Liner kit is a low cost, do-it-yourself-at home method of re-lining all loose dentures both: uppers and lowers with no mixing required. The soft, moldable, always flexible Liner material self-adheres to the dry acrylic surface of the denture. The Liner can be easily cut with scissors and then shaped to fit the contours of the denture. Next, the Liner is simply placed on top of the dry denture using gentle finger pressure. The Liner retains its flexibility in all temperatures. After a Liner is positioned on the denture, the user sparingly sprinkles the top surface of the Liner with the (included) denture adhesive powder. This powder provides increased denture retention where needed and gives added stability and support, thus eliminating annoying denture movement while talking and chewing food.
To extend the Liner's useful life (make it last longer) it should be washed and rinsed with ordinary tap water once each day to remove food particles. At night, the Liner can be easily removed (peeled off) of the denture, rinsed clean, and re-used the next day. Liners are soft, flexible, shape-able discs approximately 2-inches in diameter by 1/8-inch thick.
When Weber was asked what kind of feedback he gets from users of the Weber Denture Liner kit he said: "Let me quote a few of the comments I've had such as:
(1) "We LOVE this product! This is the answer we've been looking for! Thank you.
(2) "I am very pleased, can spit further than ever and eat chicken bones again!"
(3) "Fantastic product, so easy to use!"
(4) "Excellent product and highly recommended."
(5) "Really like it, works better than anything I have tried."
(6) "Nice product, great deal, thanks!"
Weber Denture Liners (Made in USA) are available as disks and also in preformed shapes as your choice of uppers and lowers. The disks can be ordered in your choice of three kit sizes: (1) The Regular (WDL- RK-4) kit contains: 4 Liners, one bottle of denture adhesive powder and instructions. Price of Regular kit is $21.95 each (2) Trial kit (WDL-TK-2) contains: 2 -Disk shaped Liners, one bottle of denture adhesive powder and instructions. Price of this Trial kit is $14.95. Another Trial Kit #NTK-3: has 3 Liners: 1-round 2" dia. x 1/8" thick; 2- pre-formed liners, you have your choice of 2 uppers or 2 lowers or 1 lower and 1 upper. Also included is a bottle of WDL Denture Liner Adhesive Powder. This kit gives you an easy way to try all three kinds of Weber Denture Liners so you can see which one is best to meet your personal needs. This kit is available at $15.95. In addition: Weber Pre-Formed Denture Liners are available immediately in kits with: (1) 4-Preformed Denture Liners (choice of uppers, lowers or both) for: $24.95 (2) 10-Preformed Denture Liners (choice of uppers, lowers or both) for: $39.95. A bottle of Weber Denture Adhesive Powder is included with all kits. All shipping and handling is free (to USA). Satisfaction guaranteed or money back. To place an order or for more information, contact: Originals By Weber, 338 Alabama Avenue, Toms River, NJ 08753, 877-309-8382. Website for more information and articles about dentures; http://www.dentureliner.com
OR: http://www.originalsbyweber.com
NEW VIDEO now available on the website (see below).
###