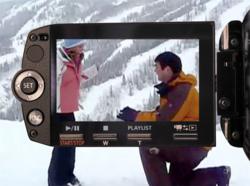 We want to give people an opportunity to share their marriage proposal video with the world and re-live that life-changing moment over and over again.
Los Angeles, CA (PRWEB) July 13, 2011
This week Robbins Brothers announced its 'Share The Love' video contest which asks romantics to share their videotaped marriage proposal for a chance to win $1,000 and star in an upcoming Robbins Brothers commercial. While the campaign highlights the emotion associated with the exact moment someone gets engaged, it also showcases the engagement niche that Robbins Brothers has carved in the marketplace.
For consideration, all contestants can submit their proposal video to Share The Love thru August 31. An internal panel of judges will select the top five videos which highlight an overall emotional connection to the video content, creativity with planning and executing the proposal and the recipient's reaction. Reports have found that around 90 percent of the time, the woman being proposed to covers her face with her hand. "Everyone knows the face is an emotional radiator—it's a communication system that tells others what you're thinking," said Anthony Concotilli, director of digital marketing for Robbins Brothers. "The expression of great surprise and shock is an exciting moment to watch."
The company requests both intimate and public engagements including ones that have taken place at a private dinner, the beach, during a skydiving session, in front of family and friends or perhaps at a sporting event. Guys who are currently in the midst of planning their surprise proposal might even decide to capture it on video for a chance to enter the 'Share The Love' contest and create another romantic memory for the couple.
"This moment of peak emotion for two people in love is just amazing to witness," said Diane Ferraro, director of advertising for Robbins Brothers. "Everyone loves to share the great news about a wonderful relationship that has blossomed into an engagement. Many married couples also like to reflect on their marriage proposal often. We want to give people an opportunity to share their marriage proposal video with the world and re-live that life-changing moment over and over again." Visit http://robbinsbrothers.com/sharethelove for more information.
About Robbins Brothers
An engagement and wedding ring retail company with freestanding stores located in Southern California, Houston, and Dallas/Ft. Worth, Texas, Robbins Brothers serves as the destination for couples in love. While the company specializes in engagement ring settings and diamonds, it carries an extensive selection of loose diamonds, engagement rings, promise rings, commitment rings, anniversary bands, right-hand rings, three-stone rings, wedding bands, earrings, pendants and bracelets from designers including Scott Kay, Simon G., Ritani, Bridget, Coast Diamond and Jeff Cooper. Onsite jewelers are available to set diamonds, custom-design settings and perform service and maintenance checks. Each location is furnished with a refreshment lounge and relaxation area, television and children's play area.
###