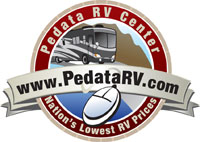 In most cases of tire failure the problem began with under or overinflated tires.
Phoenix, AZ (PRWEB) July 14, 2011
Pedata RV Center releases Top 3 Tips for RV tires. RVs weigh thousands of pounds and require a delicate balance and air pressure regulation for tires. Keeping the tires maintained accurately will maximize the safe running of the RV.
Gerard Pedata of Pedata RV Center said, "In most cases of tire failure the problem began with under or overinflated tires. Keeping the tires up with appropriate air pressure and the right balance will mean a safer trip as well as a lower gas bill."
Top 3 RV Tire Tips:
1. How old are the tires? With time tires become degraded and less safe. Replace RV tires once every five years to maintain maximum performance even if it appears to have held onto the tread.
2.Check tire pressure and balance prior to each trip.
3. Check tire pressure frequently while on the road and pay attention to the tires after driving through areas in which punctures are probable.
Experts at Pedata RV Center also urge consumers to consider tire age and condition when purchasing a recreational vehicle. The age and condition of the tires and the need for new tires in the future should be reflected in the price of the vehicle. The other main issue regarding maintenance and repair bills will be the engine. Buyers and owners alike should also pay close attention to regularly scheduled maintenance of the engine in order to maximize safety and fun in any RV.
Pedata RV Center sells used RVs, travel trailers, fifth wheels, campers, and motor homes. Their full inventory is accessible online and due to their low overhead costs they are able to offer competitive pricing in their industry. Easy access to industry and recreational vehicle information allows consumers to have access to the specific knowledge they need to ensure their purchase results in long term satisfaction.
For more information on Pedata RV Center, or current trends in the RV industry visit Pedata RV Center online at http://www.pedatarvcenter.com or contact Gerard Pedata:
Contact: Gerard Pedata
Company: Pedata RV Center
http://www.PedataRVCenter.com
Phone: 1-888-545-8314 or 520-807-0900
Email: sales(at)pedatarvcenter(dot)com
###