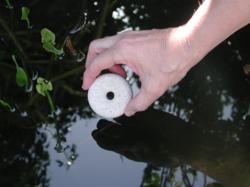 In warm weather, mosquitoes can develop from eggs to adults in a little more than a week in just a few ounces of standing water
Orlando, FL (PRWEB) July 14, 2011
Health officials in Seminole County, Florida, have issued a mosquito-borne illness advisory after a positive test for West Nile Virus in several chickens. Recent rains and summer heat have made Florida, and other parts of the country, prime breeding grounds for mosquitoes, which can spread West Nile virus, dengue fever, encephalitis, canine heartworm and other diseases.
Because mosquitoes lay their eggs in standing water, Health Department officials are asking everyone to take steps to reduce standing water to stop mosquitoes from multiplying. To reduce mosquito populations:

Drain water from garbage cans, house gutters, buckets, pool covers, coolers, toys, flower pots or any other containers where sprinkler or rain water has collected.
Remove and discard old tires, drums, bottles, cans, pots and pans, broken appliances and other items left outdoors that can collect water.
Empty and clean birdbaths and pet water bowls at least once or twice a week.
Protect boats and vehicles from rain with tarps that don't accumulate water.
Maintain swimming pools in good condition with appropriate chlorination. Empty kids' swimming pools when not in use.
Where standing water collects, use a product with all-natural Bti to disrupt mosquitoes' breeding cycle. The Bti in a Mosquito Dunk will kill mosquito larvae in birdbaths, ponds, animal watering troughs and other standing water before they become biting, disease-carrying adults. Mosquito Dunks are safe for pets, wildlife and fish, and they are approved for organic use. A six-pack of Mosquito Dunks sells for about $12 at home centers, hardware stores, garden centers and online at http://www.naturehills.com.
###