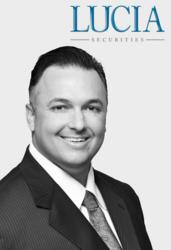 We offer a framework for retirement planning like no other firm in the industry
San Diego, CA (PRWEB) July 13, 2011
As part of their long-term strategy, RJL Wealth Management, LLC (RJLWM) announced today the launch of Lucia Securities, LLC a registered broker/dealer, member FINRA and SIPC—a move first conceived by Ray Lucia Jr., CEO of RJLWM, in 2007 before entering into his existing broker/dealer relationship with First Allied Securities, Inc. (First Allied). Over the past four years, with support and guidance from First Allied, Ray and RJLWM were able to grow their current client base and assets under management.
"First Allied has been there every step of the way," said Ray Lucia Jr., CEO of RJL Wealth Management. "In an industry where it is common practice for financial advisors to leave their former firm under the cover of darkness, I decided long ago that is not how we do business. We have a great relationship with First Allied and look forward to continuing to work with them well into the future."
Adam Antoniades, President of First Allied, said, "It has been exciting to see a firm such as RJLWM grow to the point of launching their own independent broker/dealer. As an organization, we pride ourselves on understanding the evolving needs of our financial advisors and helping them build the businesses they want. As a firm committed to helping our advisors grow, this is a shining example of how we do it." First Allied will continue to enhance and expand an ongoing joint marketing initiative with RJLWM. Additionally, First Allied's asset management team will continue to provide asset management services as a sub-advisor to several of RJLWM's managed portfolios.
Lucia Securities enables RJLWM to continue their commitment of providing clients with a best-in-class platform for retirement solutions, allowing for increased flexibility and streamlined operations. "We offer a framework for retirement planning like no other firm in the industry. Utilizing Ray Lucia, Sr.'s Bucket Strategy(TM) as the core foundation to delivering advice, our clients, advisors, staff, and compliance are all on the same page*. The launch of Lucia Securities will strengthen our framework by further streamlining the delivery of products and services to our clients nationwide," comments Mr. Lucia.
Lucia Securities has also announced their clearing relationship with RBC Correspondent Services (RBC). Through RBC Correspondent Services, Lucia Securities and RJLWM will provide their clients with best-in-class services and support.
"Our decision to work with RBC Correspondent Services as our clearing firm further demonstrates our commitment to our clients and their investments. RBC Correspondent Services has proven over the last decade that they are committed to prudent fiscal decisions," commented Brent Rivard, President of RJLWM. "In addition, their technology and services will streamline our operations and our clients' access to their financial information."
Leading Lucia Securities as Chief Compliance Officer will be Michael Castillo, a 14-year industry veteran, hailing from such well-known firms as American Express, PaineWebber, UBS International, and Arrowhead Credit Union. "It is a pleasure and an honor to be an integral part of Lucia Securities. I am excited for future endeavors with the firm and to offer best-in-class service to our existing and future client base."
Lucia Securities will operate out of RJL Wealth Management's current headquarters in San Diego, California and will provide services to branch offices throughout the country.
About RJL Wealth Management, LLC
Headquartered in San Diego, California, RJL Wealth Management, LLC (RJLWM) is a comprehensive wealth management firm with offices and meeting locations nationwide. RJL Wealth Management strives to help clients retire in comfort and safety by utilizing Ray Lucia's Bucket Strategy(TM), a strategy that has been applied to individuals, multi-generational families, foundations, and corporations alike. RJL Wealth Management is dedicated to providing advice and services that set the bar for excellence in financial planning and wealth management services. For more information, please visit http://www.rjlwm.com.
About RBC Correspondent Services
RBC Correspondent Services (RBC) provides clearing, custodian and execution services for independent broker/dealers and other financial professionals. A leader in the U.S. brokerage industry since 1909 and a custody and clearing leader since 1979, RBC specializes in delivering personalized, high-touch service to help investment professionals manage their clients' needs. RBC Correspondent Services is a division of RBC Capital Markets LLC, member NYSE/FINRA/SIPC, a wholly owned subsidiary of Royal Bank of Canada . Royal Bank of Canada** is the only bank in North America to make Global Finance Magazine's 2010 top 10 safest banks and is one of the world's largest and strongest banks with a reputation for providing sophisticated solutions for high net worth clients.
For more information, please visit http://www.rbccorrespondentservices.com
About First Allied Securities, Inc.
First Allied Securities, Inc. (First Allied) is a full-service, independent broker/dealer with approximately 1,000 financial advisors in more than 500 branches throughout the U.S. First Allied is also a Registered Investment Advisor offering fee-based products and services. First Allied provides a broad range of advisory programs to their associated financial advisors operating under their corporate Investment Advisor and supports advisors with diverse business models. Associated advisors also may conduct business under their own Investment Advisor firms via their hybrid program, which provides the flexibility to leverage leading custodian firms for their advisory business. Additionally, qualifying advisors retain the ability to leverage their brokerage platform to retain commission-based assets and trail commissions, and have access to their depth of expertise in various products and services.
*Ray Lucia Sr. is not a representative of RJL Wealth Management, LLC or Lucia Securities, LLC and does not offer securities or advisory services through either entity.
**Royal Bank of Canada does not guarantee any debts or obligations of RBC Capital Markets Corporation.
###