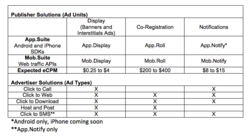 San Francisco, CA (PRWEB) July 12, 2011
One of the largest mobile performance ad networks, Moolah Media, is today announcing what it believes will be the next chapter in mobile advertising. To date, publishers and developers have had difficulty monetizing their users and understanding which ones are the most profitable – until now, with Moolah Media's App.Suite and Mob.Suite solutions campaign. The ad network is hoping to attract new developers with its $3 million developer fund.
"Legacy forms of mobile advertising are broken," said Shawn Scheuer, CEO and co-founder of Moolah Media. "Developers and publishers are often overpaying to acquire new users that may use their site or app only once. Moolah's new monetization tools provide immediate monetization to cover acquisition costs and allow for follow on monetization that translates into pure profit. Best of all, the new ad units within App.Suite and Mob.Suite are effective at monetizing the 95 percent of users that do not make direct payments."
To celebrate the launch, Moolah is announcing a $3 million developer fund. The company is offering an additional 33 percent payout, up to $3 million, for all new publishers and developers that use Mob.Suite or App.Suite. For more information visit http://www.moolah-media.com/3mdeveloperfund.php.
App.Suite and Mob.Suite extend to developers and publishers the ability to monetize their users in ways that best work for their audience and user experience. Each suite consists of three ad units, which can be utilized individually or in combination.
Co-Registration (App.Roll and Mob.Roll)
With co-registration, users register with the mobile app or website, and are shown a series of highly relevant offers, which they can choose to skip or view. Co-registration is an effective way to immediately monetize and recover the cost of acquiring new users. Moolah's co-registration can also be used to unlock content within a mobile site or game. eCPMs for App.Roll and Mob.Roll range from $200-$400, or 25c-60c average revenue per user.
Notifications (App.Notify and Mob.Notify)
With notifications, users opt in to receive notifications (either device tray for Android or SMS for mobile web) with status updates and deal alerts. Notifications are an effective tool to promote recurring monetization of users that don't return to an app or mobile site frequently, and help to re-engage users. Using Moolah's App.Notify and Mob.Notify, developers and publishers can expect eCPMs ranging from $8-$15 and recurring ARPUs of 5c to 20c per month.
Display (App.Display and Mob.Display)
With display, developers and publishers can monetize impressions with banners and interstitial ads that are targeted based on device type, carrier, category, and other parameters. Using display, developers and publishers can expect 100 percent fill rates and 25c-$4 eCPMs.
These new developer and publisher monetization tools integrate seamlessly with Moolah's existing performance based monetization platform, providing real-time stats on conversions and revenue for all campaigns.
About Moolah Media:
Moolah Media is the highest performing US-based mobile affiliate network. Founded in November 2010, Moolah Media generates high quality leads, registrations and sales for advertisers. The network provides reliable mobile inventory monetization for publisher, and an interactive and informative experience for mobile users. Utilizing its proprietary ad serving and tracking platform, Moolah Media supports all types of mobile inventory including text message, mobile browser, and iPhone and Android mobile applications. Moolah provides publishers and advertisers with real-time reporting on all aspects of ad performance.
Press Contact:
Alice Joy
VSCpr for Moolah Media
alice (at) vscpr (dot) com
415.677.9125 x. 207
###