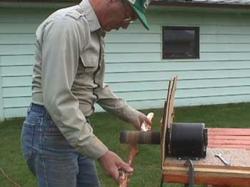 I am extremely happy with my drum sander, it does an awesome job, very fast. I would recommend it to any woodworker.
Toms River, NJ (PRWEB) July 15, 2011
Originals By Weber, Terry L. Weber, owner, announces immediate availability of their new highly efficient Flex Drum Sander Kit. Three always soft long lasting sleeves (included) have a molded foam core covered with sandpaper in choice of three grits: 80, 120 and 220. These sleeves slide onto a metal gripper shaft arbor assembly (included) that is fitted on your own electric motor with set screws for clamping to the shaft of your electric motor (motor is not included in the kit) Included is a split bushing to adapt the 5/8" bore in the arbor to a 1/2"motor shaft , if it is needed.
Durability:
The life of the sanding sleeves and pad assembly is determined largely by the type of materials being sanded and the aggressiveness of sanding pressure applied to the sleeve. Excess pressure, too much aggressiveness applied to the sanding sleeve pad assembly while sanding will generate excessive heat that shortens the life of the pad and sleeve assembly.
How to attach the Flex Drum Sander to your motor:
1. Insert the motor shaft into the bore in the end of the shaft arbor. If spit bushing is used, position the set screws to clamp on the side of bushing and not in the slot. Tighten both set screws securely against the shaft of your motor.
Use the palm of your hand to push the padded sanding sleeve firmly into place over the arbor. The pad will be a tight fit onto the shaft. Lightly coating the inside of the pad on the end with Vaseline might be necessary for easier installation. The four grippers that are built into the sides of the shaft prevent the pad from turning on the shaft during use.
Customer's comment:
"I just got my drum sander today. I did one of my maple canes and it just works Great. 
Thanks my friend  and God bless."  
."I bought one and you are right, I love it. It makes things look so much better and does it faster."
INCREDIBLE!!! Why we didn't have these 10 yrs ago?
Can't get any better.... Thank You !
Price:
Price of the Flex Drum Sander Kit FSD-407:  $46.00 (shipped free) anywhere in the USA. via USPS First Class Mail (*)
(*) Shipping via Priority Mail (for 2-3 days delivery) is exra @ $6.60/ kit.
The kit includes:
3-foam padded drums (sleeves) with 3-different grits of sandpaper sleeves,
1-metal gripper shaft and
1-split bushing adapter (No motor) .
Refill sanding sleeves are always available and current price for each sleeve is $6.45 (plus s/h).
Scroll down to see the Flex Drum Sander Kit Video at the website below!
For answers to questions, please email them to: Terry Weber Email address is: originalsbyweber@gmail.com
Or call Toll Free: 877-309-8382
Video of the FLEX DRUM SANDER Kit can be seen on website below:
http://www.originalsbyweber.com/page/page/4581817.htm
###