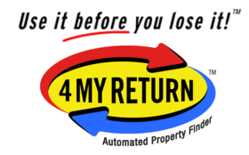 With 4MyReturn, whether you've lost a new iPhone or BlackBerry Tablet, we're providing immediate alerts to recover your items.
San Francisco, CA. (PRWEB) July 14, 2011
4MyReturn provides users with visually appealing, durable tags that feature a toll-free call-in number and website, along with a secret code which uniquely identifies their property ownership while protecting their privacy and personal information. Once found, the 4MyReturn tagged property alerts the finder to contact 4MyReturn, and it's automated central system sends the owner an immediate email, text, and voice-mail telling them that what they've lost has just been found. 4MyReturn is protected by pending patents, along with 2 allowed trademarks.
According to Forbes, U.S. consumers lose over $50 billion dollars of property every year. Whether it's a purse or briefcase left underneath a metro seat or a wallet or set of keys left at the counter of a morning coffee shop, 4MyReturn provides a solution so that a lost item can be recovered quickly and hassle free. "We've all lost something important to us," says Mark Samuel, Co-Founder, "but writing labels is messy; they're time-consuming, hard to read, and often fade or peel off. I realized we need a new way to protect our portable property and to deliver a fast paced solution. With 4MyReturn, whether you've lost a new iPhone or BlackBerry Tablet, we're providing immediate alerts to recover your items. 4MyReturn protects your privacy, your property, and your peace of mind - for only pennies a day!"
4MyReturn offers the only automated and anonymous recovery system on the market. 4MyReturn's database assigns each customer a unique Identification number, which protects their privacy and their personal contact data. When a lost item is found, the 4MyReturn database acts as the intermediary, automatically sending alerts to the owner by voice, text and email, that their property has been found.
4MyReturn's automated system provides this new service in the most cost-efficient way: consumers only pay $14.95 for the service, which includes 26 tags, the online insurance registry organizer, and an entire year subscription including unlimited notifications by voice, text and email when property is found. From fabrics, like the interior of a favorite purse or evening jacket to high-end electronics or pet collars, 4MyReturn's superior tagging system will bond to almost any surface. Given the cost of replacing a $300 phone or $100 electronic car keys, just a single recovery with 4MyReturn immediately delivers significant savings to the consumer.
About 4MyReturn:
4MyReturn is a new innovation by Concept2Commerce, LLC., a company Co-Founded by Mark Samuel. "With 4MyReturn, we're creating a phenomenal, low cost solution for a billion dollar industry," states Samuel.
For More information, visit 4MyReturn at http://www.4myreturn.com. For licensing and distribution inquires, please contact the company at 877-562-1259 or info(at)4myreturn(dot)com.
###