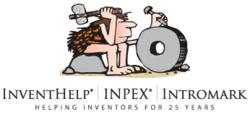 Pittsburgh, PA (PRWEB) July 13, 2011
InventHelp®, America's largest inventor service company, announces that one of its clients, an inventor from Pennsylvania, has designed a sports uniform accessory that would gather sleeves together on the shoulder to allow athletes to stay cool and focused while playing the sport of their choice. This invention is patented.
"Magneties" bands would feature a magnet on each end of an elastic strip with wrap-around fabric. The magnet holds the band in place to secure sleeves up to the shoulders of a sports uniform. The fashionable design could be customized to uniform colors and designs or logos. The easy to use magnet design would not damage uniforms or attach to other garments.
Magneties would consist of an elongated, cotton fabric strip that would measure approximately ½ inch in height, 6 inches in length and 1/8 inch in width. The embedded elastic would allow the material to stretch over uniforms. Each end of the strip would feature a magnet, which would be integrated into the material. The magnets would be used to secure the Magneties and keep the uniform on the shoulders. Magneties could be producible in different designs, which could include beads, prints and colors to feature different sports.
InventHelp® is attempting to submit the invention to companies for review. If substantial interest is expressed, the company will attempt to negotiate for a sale or royalties for the inventor. For more information, telephone Dept. 09-WGH-3943 at (800) 851-6030.
# # #