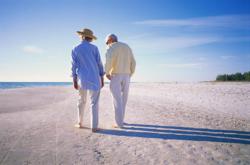 Consider Trip Cancellation risks related to the health of senior family members whether they will be traveling or not.
East Hartford, CT (PRWEB) July 13, 2011
The U.S. Census Bureau, part of the Department of Commerce, recently released 2010 census results revealing a slower-growing middle-aged population of Americans who will soon assume care-giving responsibility for faster-growing numbers of their elder family members. Among census findings revealed in May were that the "younger working population" group, aged 18 to 44, grew by 622,937 (+0.06 percent) compared to the expanding senior group, aged 62 and over, that increased by 8,716,152 (+21. percent).
While the "older working population," aged 45 to 64, still had the highest growth over the past 10 years with 19.5 million more people (+31 percent), the Census Bureau noted that more than 6 million of the older working group, equal to almost one-third, are recent or budding retirees in the 60 to 64 year-old age range. "The large growth of this [older working] age group is primarily due to the aging of the Baby Boom population, those born between 1946 and 1964," said the Census report.
Travel Insured International®, the leading independently-owned travel insurance provider, urges young and middle-aged adult children to look beyond their own personal travel risks when planning their next vacation. Consider trip cancellation and trip interruption risks related to the health of senior family members when evaluating whether to take travel insurance. The risks are real, whether older folks will be traveling with their adult children, or with other family members, or not traveling at all. AARP Magazine executive editor Ken Budd, as reported by CBS News, last month told "The Early Show" audience that approximately 65 million Americans are already providing some level of unpaid care to their elders, at an approximate value of $350 billion.
Adult children who insure their vacations or family reunions against costly disruptions due to unforeseen health emergencies that may strike senior family members, and who make sure family elders with travel plans have their own trip insurance, can enable themselves to enjoy travel plans while maintaining control of elder care-giving responsibilities. Staying or returning home promptly from vacation, when unforeseen family illness requires home to be first priority, is possible without the added suffering of lost travel costs when a good travel insurance plan was added to the travel booking.
Health-Related Trip Cancellation and Pre-Existing Coverage Available

All of the four Travel Insured International® retail plans, including Worldwide Trip Protector, Worldwide Trip Protector Gold, Trip Protector Lite, and Trip Protector Lite Expanded provide Trip Cancellation or Interruption coverage due to sickness, injury or death of the insured, his or her travel companion, or any of their family members resulting in medically-imposed restrictions documented by the attending physician of the sick individual.
Under the Worldwide Trip Protector, Worldwide Trip Protector Gold, or Trip Protector Lite Expanded plans a covered illness can include recurrence of a pre-existing condition illness provided the plan was purchased within 14, 21 or 30 days of the initial trip deposit, depending upon the selected plan, and other simple purchase requirements have been met.
Family members (of the insured or his or her travel companion) whose illness can trigger coverage under Trip Cancellation / Trip Interruption include parents, a legal guardian, step-parent, grandparents, parents-in-law, grandchildren, natural or adopted children, children-in-law, brother, sister, stepbrother or stepsister, brother or sister-in-law, aunt, uncle, niece or nephew.
Emergency Medical Expense in Travel Insurance
Senior travelers benefit from Emergency Accident and Sickness Medical Expense, Emergency Evacuation, Medically Necessary Repatriation, and Repatriation of Remains coverage included at varying maximum amounts, depending upon the plan selected, in each of the four Travel Insured International® retail plans. Optional Medical Upgrades are available in each plan.
Depending upon the selected plan, the upgrade will increase coverage limits, and may eliminate a $50 deductible and make the medical coverage primary. Accidental Death & Dismemberment coverage is included only in the Worldwide Trip Protector Gold plan at $25,000 and in the Worldwide Trip Protector plan at $10,000. Additional Air-Only Accident insurance is included in the Worldwide Trip Protector Gold plan, at $100,000, and optional in the three other retail plans.
The U.S. State Department on its web site at http://www.state.gov/travel/ reminds Americans that most U.S. health care plans, including Medicare, do not provide coverage outside the U.S., and Travel Insured International® notes that most cruises, including those departing from U.S. embarkation ports, operate in international waters and itineraries traveling outside the U.S. health care system.
The advancing age of senior family members should not mean the end of leisure traveling for adult children who take responsibility for their elders' care. Whether their senior family members are no longer leaving home or still actively traveling, adult children can be confident that Travel Insured International® has the trip insurance plan to take the financial worry out of making vacation plans.
About Travel Insured International®
Travel Insured International®, based in E. Hartford, CT, was founded in 1994 by the foresight of insurance industry executive Peter Gehris when he acquired the travel protection division of the Travelers Insurance Company. Coverage is underwritten by Arch Insurance Company (a Missouri corporation, NAIC #11150) with executive offices located in Jersey City, NJ. Arch Insurance is rated A ("Excellent") for financial strength by the insurance rating service A.M. Best. Not all insurance products or coverage is available in all jurisdictions. Coverage is subject to actual policy language
Travel Insured International®
52-S Oakland Ave.
E. Hartford, CT 06128-0568
Contact: John Stone
Media Relations Manager
###