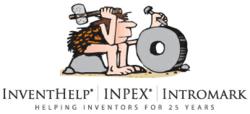 Pittsburgh, PA (PRWEB) July 15, 2011
InventHelp®, America's largest inventor service company, announces that one of its clients, an inventor from Nevada, has designed novelty eyewear that could be worn at costume parties or for general amusement or fashion. This invention is patented.
"Rushing Eyewear" would be comprised of two bent forks that would be welded together. The unique design could provide as a conversation piece or may spark a fashion trend. The stylish design could enhance a user's style.
Rushing Eyewear would consist of two forks that are bent inward at the heads. The front tips of each head would be welded together. The prongs closest to the nose would be tapered to form a bridge and nose pad. The fork handle form the temples of the eyewear. Rushing Eyewear would be producible from various kinds of forks.
InventHelp® is attempting to submit the invention to companies for review. If substantial interest is expressed, the company will attempt to negotiate for a sale or royalties for the inventor. For more information, telephone Dept. 08-VEG-341at (800) 851-6030.
###