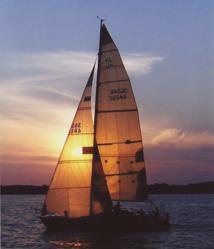 Erie, PA (PRWEB) July 13, 2011
The Sheraton Erie Bayfront Hotel introduces Sheraton Cooler Meals, a new way to enjoy fine fare on a summer day at the lake. The waterfront hotel will offer a special menu of to-go dining options made for eating picnic-style aboard a boat, at the beach or at one of the picturesque parks nearby.
The cooler meals, prepared onsite at the Bayfront Grille, come in three varieties for brunch, lunch or dinner and range in price from $14 to $16, including drinks and side dishes. Each meal comes in a free reusable Sheraton Erie Bayfront Hotel cooler bag.

The Sunrise Smoked Salmon Brunch meal includes a fresh Smoked Salmon Jumbo Bagel Sandwich, whole fruit, orange juice and Nestlé Pure Life water.
The Picnic Lunch package features a three-meat Muffaletta Sandwich, a bag of chips, whole fruit, a candy bar, a cold beverage and Nestlé Pure Life water.
For the evening, the Sunset Cruise Cooler includes an assortment of artisan cheeses and crackers, vegetable crudités, whole strawberries with pomegranate Chantilly, a cold beverage and Nestlé Pure Life water.
Add-ons to any meal include Oysters and Caviar with accompaniments.
Bayfront Marina District boaters and hotel guests are also welcome to order any of the fresh regional cuisine available at the Bayfront Grille in a to-go cooler.
"Our new program is intended to add to the experience of a relaxing summer day on Lake Erie," said Thomas Bedner, Food and Beverage Manager. "The cooler meals take picnic food beyond the traditional by matching the quality of meals served onsite at the Bayfront Grille."
Sheraton Cooler Meals are available to Bayfront Hotel guests and walk-in visitors seven days per week all summer. Diners are encouraged to call (814) 240-7263 a half-hour before their arrival to ensure their meal is ready upon their arrival. The program will end this fall before returning next summer.
About the Sheraton Bayfront Erie Hotel
The Sheraton Bayfront Erie Hotel is the premier waterfront hotel on Presque Isle Bay. The 200-guestroom hotel is located on Lake Erie, adjacent to the Bayfront Marina District and the Bayfront Convention Center. Featuring onsite dining at the Bayfront Grille, an indoor heated pool, a 24-hour fitness center and 5,800 square feet of flexible function space, the hotel caters to business and leisure travelers alike.
For more information please visit http://www.sheratoneriebayfront.com/ or call (814) 454-2005.
# # #